Ramadan is a time for reflection, gratitude, and unity. It is also a time for indulging in delicious food with friends and family. Bulgogi Grille Dubai understands the importance of a satisfying meal during this holy month, and thus, is offering an irresistible Iftar deal for just AED69.
Starting from the first day of Ramadan until the end of the month, this exclusive offer is available for dine-in guests. Guests can enjoy a sumptuous meal from 12pm to 10 pm from Monday to Thursday, and from 12pm to 11 pm on Friday to Sunday.
The menu includes an array of mouth-watering dishes, including Korean-style grilled meats, vegetarian options, and delectable side dishes. Their signature Bulgogi Beef, and their vegetarian options, such as the Kimchi Fried Rice that will satisfy even the most discerning palates.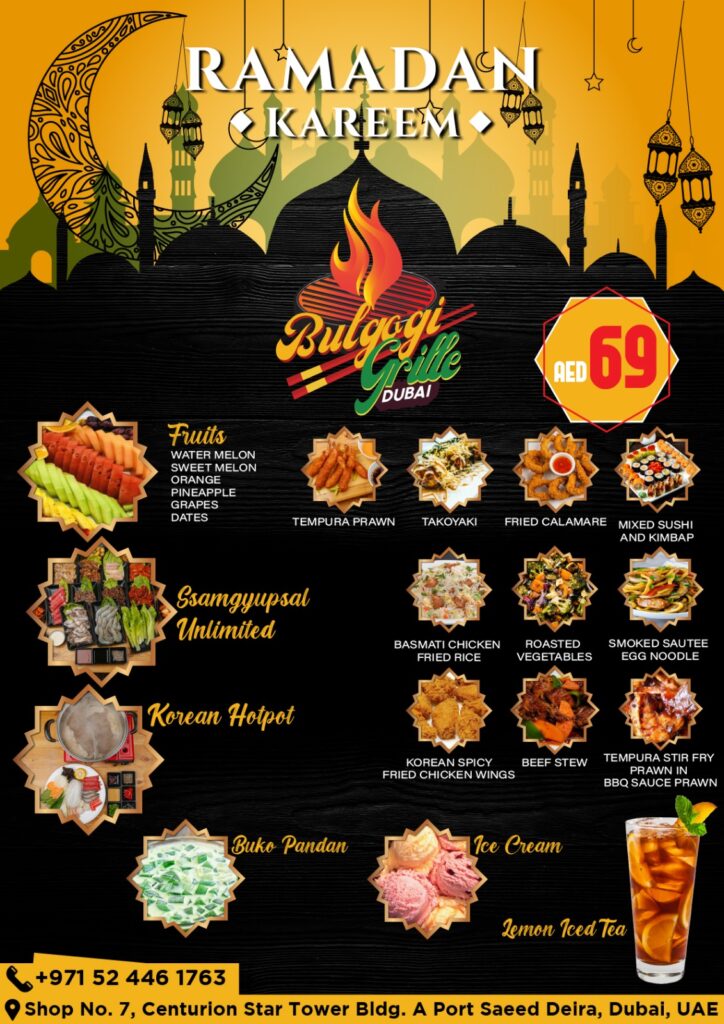 If you prefer to break your fast at home, Bulgogi Grille Dubai's delivery service is just as appealing. The same unbeatable offer applies for deliveries made through Talabat, Noon, and Zomato, with delivery timings from 12pm to 10:30pm on weekdays and until 11:30pm on weekends.
Bulgogi Grille Dubai is a contemporary Korean grill restaurant that has established itself as a go-to destination for food enthusiasts in Dubai. Their philosophy of using only the freshest and highest quality ingredients, coupled with the use of traditional cooking techniques, has earned them a loyal following in the city.
As the month of Ramadan approaches, Bulgogi Grille Dubai invites you to break your fast with their scrumptious Iftar deal, available all month long. Don't miss out on this unbeatable offer, and book your table now to experience the flavors of Korea this Ramadan.