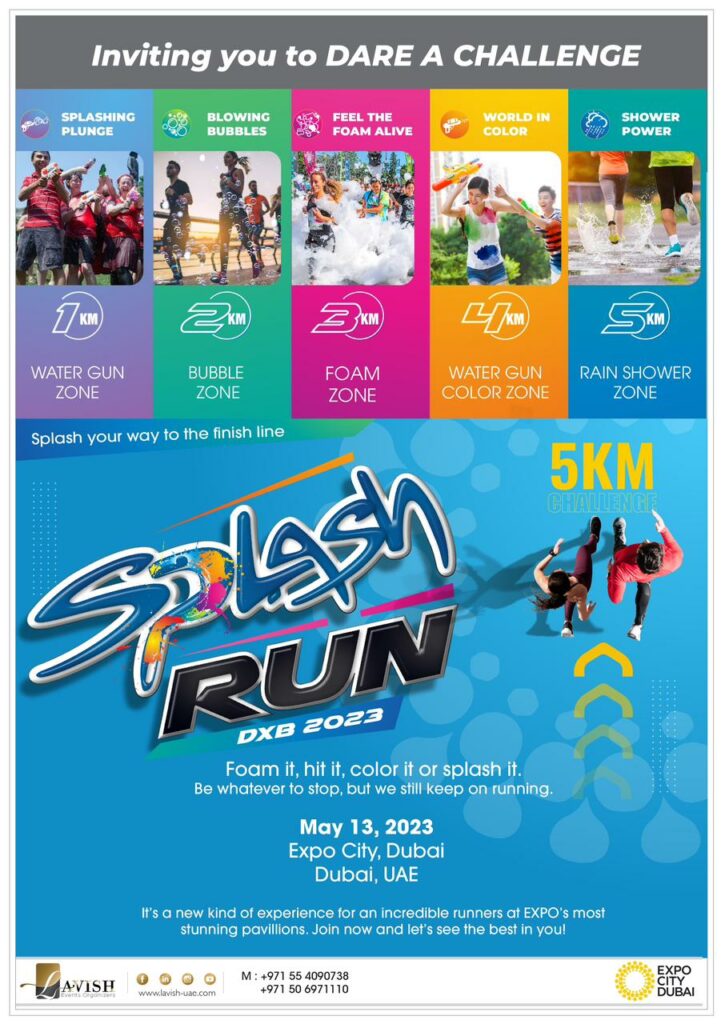 Foam it, hit it, color it, or splash it – the Splash Run DXB 2023 is the event you don't want to miss! Join us on May 13, 2023, at the new and prestigious District 2020, formerly Expo 2020, for a 5km run with a twist.
What makes this event unique is its five zones, each with a different theme and activation installed on the run. It's the first of its kind in the UAE, and we guarantee it's an experience you won't forget.
Participants of all ages are welcome to join, with a kids' category for ages 10 and below and an adult category for ages 11 and up. The Splash Run DXB 2023 is perfect for families, individuals, employees, and even teams looking to challenge themselves and have a great time.
You may be wondering how the event will take place. Well, it will be held at EXPO City Dubai, formerly EXPO 2020. To register, simply head over to our website, where you can sign up online, or buy a pass ticket at any of our satellite partner outlets, which will be announced soon. Stay tuned to our website, radio announcements, and social media platforms for updates.
Are you part of a group, company, corporation, association, or team that wants to participate in the Splash Run DXB 2023? We've got you covered with dedicated offers.
Registration ends on the day of the event, but we highly recommend that you finalize your registration beforehand and collect your materials or gear at our event satellite partner outlets.
Rest assured that you'll receive a confirmation letter via email upon registration, which contains all the basic instructions you need to know. No need to print it out; just tell us your name and registration number, and you're good to go!
Attention, schools! We've got something special for you.
Be the one to join the first-ever Splash Run DXB 2023 and challenge yourself to achieve and survive an obstacle run like no other. Don't miss out on the fun, register now, and let's make a splash together!