Etihad Airways and Emirates have recently signed a memorandum of understanding (MoU) at the Arabian Travel Market, announcing an expansion of their interline agreement. This collaboration between the two major airlines will provide passengers flying to the UAE with the option to arrive in one emirate and depart from the other, without incurring any additional airfare charges.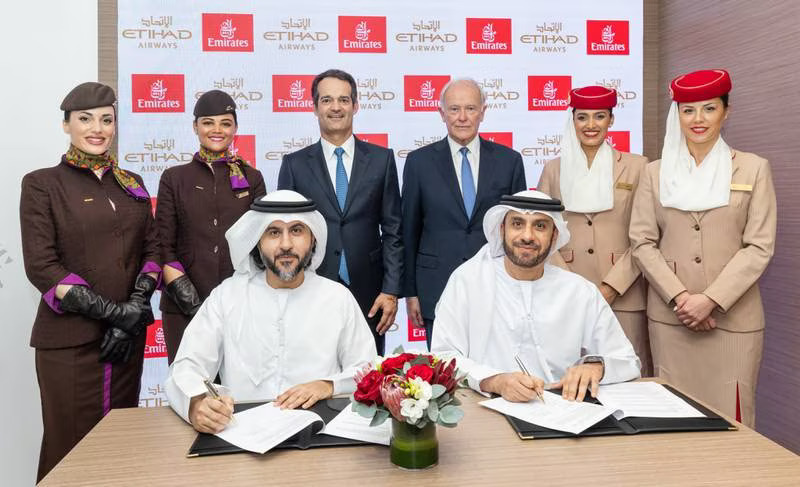 Under this new agreement, travellers can now choose to fly with Emirates to Dubai and return with Etihad Airways from Abu Dhabi, or vice versa. For instance, a passenger flying from London can opt to land in Dubai with Emirates and then depart from Abu Dhabi with Etihad on their way back. This arrangement aims to offer visitors the opportunity to explore multiple cities within the UAE during their visit, while also saving time by eliminating the need to fly back through their initial arrival airport. Additionally, this increased flexibility in flight options will cater to the varying scheduling needs of travellers.
Tim Clark, the president of Emirates, expressed his satisfaction with the collaboration, stating, "We are pleased to be working again with Etihad Airways—this time to allow each carrier to offer a new range of seamless travel options in and out of the UAE. Emirates and Etihad are leveraging our strengths to expand our respective customer offerings and boost UAE tourism."
Antonoaldo Neves, the chief executive of Etihad Airways, also expressed enthusiasm about the partnership, saying, "We're delighted to partner with Emirates in our shared mission to support inbound tourism to the UAE and facilitate travel to our vibrant cities. With two world-class airlines supporting UAE tourism, our interline agreement will make it more convenient for guests to experience the best of Abu Dhabi and Dubai on one single ticket, while promising to deliver an exceptional flying experience whether they fly with Etihad Airways or Emirates. It's a win-win proposition for travellers to the UAE."
This isn't the first time the two airlines have collaborated. In 2018, they signed an MoU aimed at enhancing aviation security within and outside the Emirates. The success of their previous partnership has paved the way for further collaboration, which aligns with the vision of the UAE for continued economic diversification.
With Etihad Airways and Emirates joining forces, travellers can look forward to enhanced travel options and a seamless experience when exploring the captivating cities of Abu Dhabi and Dubai. This agreement not only promotes tourism in the UAE but also solidifies the country's position as a premier travel destination.