By Jojo Dass
For Food Trip Magazine
Let's talk about food…let's talk about Greek food.
Dishes from Greece, the land of unique Mediterranean cuisine, maybe a bit difficult to pronounce at times; tongue-twisters, if you will. But they are certainly great to indulge in. From salads to mezzes, Greek culinary wonders are delightful discoveries for your epicurean tastebuds.
You get an authentic taste of Greece in Dubai at Philotimos, the latest addition to Dar Wasl Mall's eclectic selection of dining venues
Everything on the spread, not to mention rack items like condiments as well as olive oils and pastes, were shipped from the land of the Olympian gods to this Gulf city that never sleeps.
So, let's talk about food – Greek food.
Philotimos is derived from the Greek words "philo" which means a "liking for," and "timo" which means "honour" or "self-esteem."
It goes without saying then, that you are in a place where great food is served with meticulous preparations by people, who love what they do and do what they love, the moment you enter Philotimos.
And so, the journey into the culinary wonderland of Greece begins.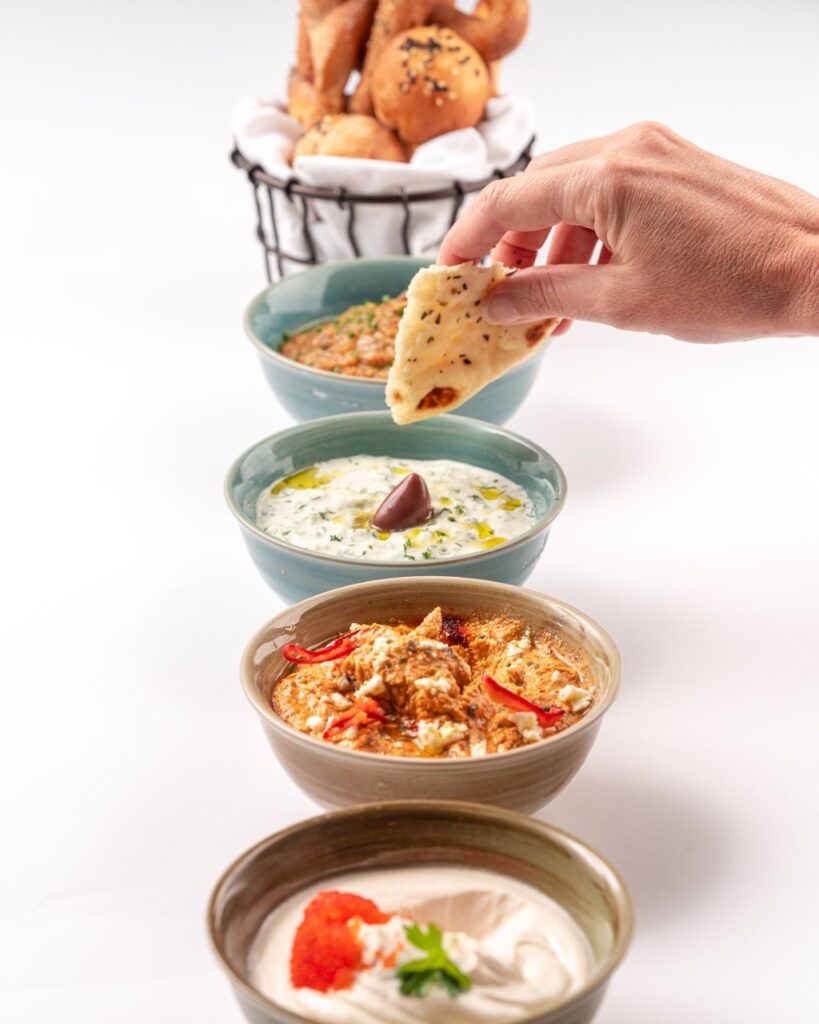 Giant olives
For starters, Philotimos has eye-popping, jaw-dropping olives the size of eggs. Named after a city in Greece, the purple-hued Kalamata Olives, with its meaty texture and bit of saltiness, have great health benefits, being rich in anti-oxidants.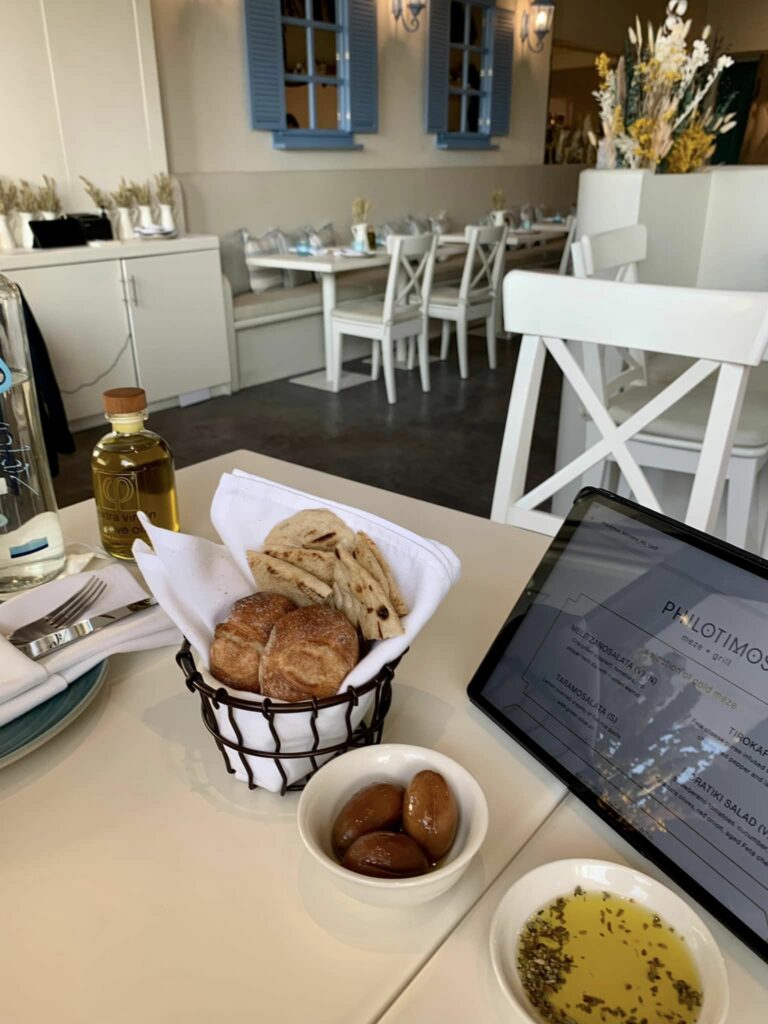 Greek cuisine is about olives, olive oil, veggies, bread and salads. Greek food is part of Mediterranean cuisine but is unique in its own way. For instance, the Graviera Cheese, which is produced in Greece from sheep milk and is found in a variety of dishes prepared in a small frying pan or saganaki.
Philotimos' Saganaki Cheese is divine, to say the least. Golden brown crunchy outside and oozing with melted Kefalograviera Cheese inside, served with honey and sesame seeds.
From the villages
From the villages to your table, meantime, is served the Horiatiki Classic Greek salad, prepared with tomatoes, cucumber, Kalamata olives, red onion and feta cheese. Horiatiki means village, and "Horiatiki Salata" is a ubiquitous dish in Greece.
It defeats the purpose dining at Philotimos and not trying the selection of cold mezzes like the melitzanosalata, which is chargrilled eggplant, tomatoes and red pepper herb dip with roasted walnuts.
The tirokafteri – feta cheese puree infused with grilled leeks, chilies and red pepper dip – is awesome; and so is the tzatziki, strained fresh herb-infused Greek yogurt dip with pickled cucumber, garlic, and extra virgin olive oil. The taramasalata, lemon-scented fish roe dip taste great, too.
Treat yourself as well to a bowl of the outrageous Moussaka, which can be described as the Greek version of lasagna albeit with its layered gratin of eggplant, zucchini, sweet potatoes, tomatoes, and cheesy béchamel sauce. While at it, note that there's a curious history to this lovely dish of the Balkans and the Middle East, like how did the French béchamel sauce find its way on this delectable Greek dish?
Chicken Souvlaki
Something to talk about as you indulge in the mains – Chicken Souvlaki, which is chargrilled lemon and oregano chicken skewers; and the glistening golden brown grilled red snapper. This, while sipping Attica, a mix of watermelon, peach syrup, lemon juice, topped with lemonade; and the restaurant's namesake, Philotimos, a concoction of pineapple juice, ginger syrup, lemon juice, olive oil, oregano and topped with ginger beer.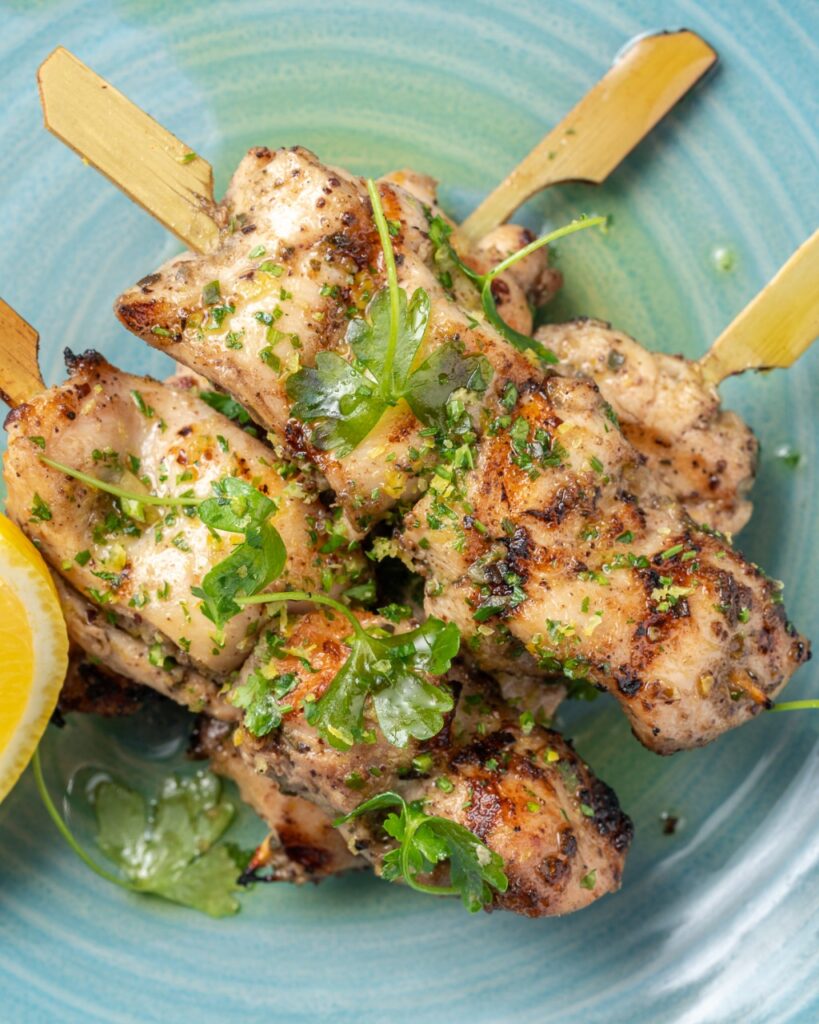 Desserts be like loukomades, classic fried mini doughnuts served with honey, cinnamon, or nuttella white chocolate.
Now, have I said a small glass of Greek mountain tea is the best way to end a sumptuous Greek meal?
And yes, Philotimos is a cosy lot with cool Mediterranean colours of the sea. You should drop by one of these days.