By JOJO DASS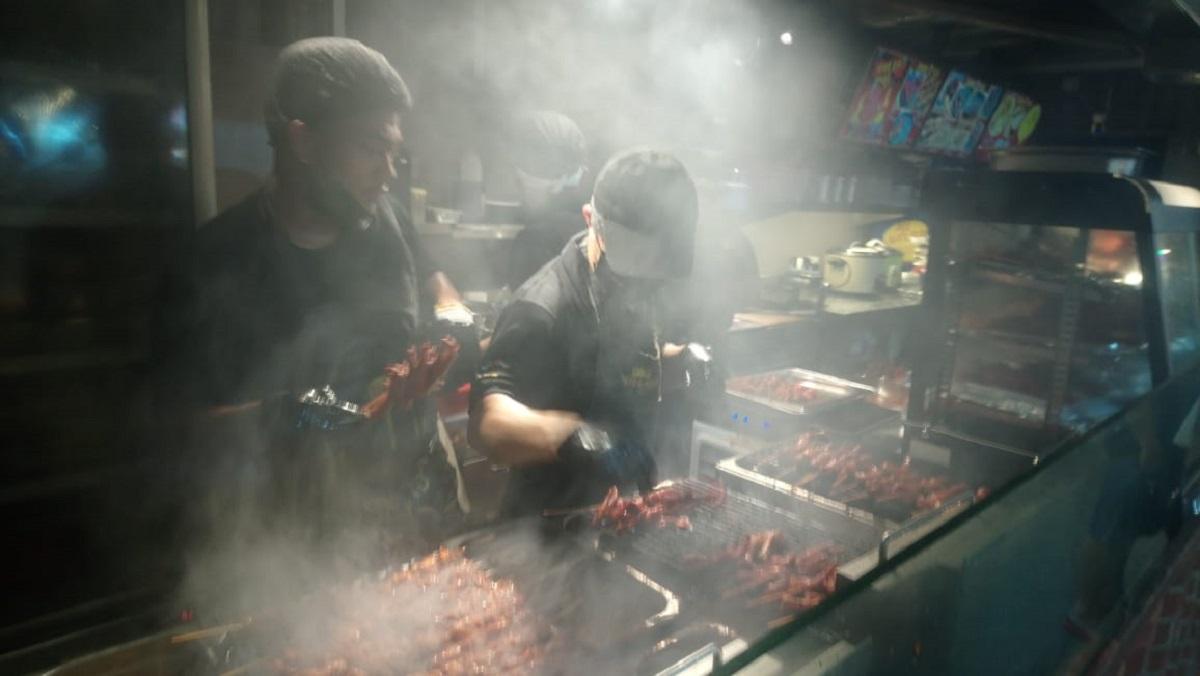 DUBAI, United Arab Emirates — It's the "ber" months, and Filipinos in this international city that never sleeps couldn't even be happier.
advertisement
The cooler al fresco evenings are here with the onset of the desert winter, and Filipinos here have just the place to enjoy the comfort foods they grew up with while reminiscing about Christmas back home – Rigga Night Market.
Named after, and located on, a strip of road in the middle of Diera, home to a large Filipino community in Dubai, the night market has everything from puto-bumbong (purple rice cake steamed in bamboo tubes), bibingka (rice cake baked on clay ovens and burning charcoals), and popular street foods like inihaw na isa (grilled chicken intestines) and grilled chicken feet. It also has delicacies like ubeng halaya (purple yam jam) and biko (glutinous rice in brown sugar and coconut milk).
There is also no shortage of other Filipino culinary delights like the "silog" range, "inasal-style" grilled chicken leg quarter, sisig combo meals, bopis, pares, dinakdakan, papaitan – the list is endless.
Rigga Night Market recently opened for its third year running.
'Strange, spaghetti-looking' isaw
The night market, which also sells clothing and souvenirs, is located near hotels, among them the five-star Swissôtel Al Ghurair Dubai, which is just right across the street; Jood Palace Hotel, another five-star accommodation; the four-star Hyatt Place; and the economy Ibis Hotel. And so, it's common to see tourists mingling with the crowd and trying their tastebuds on the "strange, spaghetti-looking" isaw, for instance.
The Rigga Night Market is also listed among events to check out during the annual, month-long Dubai Shopping Festival (DSF) organized by the Dubai Festivals & Retail Establishment, which is a part of Dubai's Department of Tourism. This year's DSF edition will run from Dec. 15, 2022 to Jan. 29, 2023.
Rigga is a 24/7 street lined with restaurants on both sides, end-to-end, some of which are open till the wee hours, selling chai, a small cup of hot tea with milk.
Filipino-owned
The Rigga Night Market is a project of two former overseas Filipino workers (OFWs) who have decided to finally do business – Marvin Suavengco and Frel Villaflor.
Forty-year-old Suavengco was, for 13 years, a sales executive at an appliance store in Mall of the Emirates. "Napagod na akong mangamuhan [I got tired of being an employee]," he said.
He said his first venture was into clothing retail a few years back.
Villaflor, for her part, arrived in Dubai 16 years ago and was, for five years, a production manager at a company engaged in media and advertising at Dubai Media City. She opened her donut kiosk in 2016 also in Rigga, where the night market is. The kiosk has expanded to include puto-bumbong, bibingka and the enigmatic kwek-kwek (boiled egg wrapped in flour batter and deep-dried).
'Pinoys love to dine out'
The two decided to engage in food and beverage because Filipinos just love to dine out, they said.
"Among Asians dito, Filipinos ang pinakamalaking gumastos kapag kakain sa labas. Aabot ng AED50 per person," Suavengco said.
(Among the Asian communities here, Filipinos spend the most dining out at AED50 per person.)
"Iba ang kultura ng mga Pilipino dito when it comes to winter. Gusto nilang mamasyal sa labas, celebrating the festive season. With the Rigga Night Market, we created the ambiance na para lang silang nasa Christmas season sa Pilipinas, may puto-bumbong, bibingka, mga Pinoy foods," Suavengco added.
(Filipinos here have a unique culture when it comes to winter. They want to take a stroll, celebrating the festive season. With the Rigga Night Market, we have created the ambiance such that they'd feel they were in the Philippines, enjoying the Christmas season with puto-bumbong, bibingka, Filipino foods.)
Suavengco said they did their homework before pushing on with the project. "Inupuan namin ito. Binilang kung gaano karami ang mga taong nagdadaan dito sa lugar," Suavengco said.
(We literally sat here and counted how many people pass by.)
Footfall
According to Suavengco, the Rigga Night Market enjoys a footfall of up to 4,000 people on a regular day. The place is a lot busier on weekends. The outdoor dining destination can sit up to 480 people at any given time with its 120 tables with four chairs each.
There are 21 food stalls and 40 clothing retail outlets. Suavengco and Villaflor own a number of the eateries, while the rest were there as vendors on contracts.
Social media impact
Suavengco said social media impact of the night market has been immense. This, he said, is partly a reason why the dining venue has been enjoying big crowds every night, especially on weekends, with Filipinos living elsewhere across Dubai dropping by to sample the spread.
"Very thankful kami sa mga nagpo-post sa TikTok at iba pang social media platforms. Naging go-to place ang Rigga Night Market. Hindi na naming kailangang mag-exert ng effort sa marketing. No need to advertise," said Suavengco.
(We are very thankful to those who post (videos about the night market) on TikTok. The Rigga Night Market has become a go-to place. We don't anymore need to exert effort in marketing the place. No need to advertise.)
"Super lakas ng socmed impact," added Villaflor, "Kapag nag-upload ako ng video sa TikTok, umaabot ng 10,000 to 20,000 ang views. Eh, kakaunti lang naman followers ko."
(The social media impact is super strong. I get between 10,000 and 20,000 views whenever I upload videos on TikTok. But I only have a few followers.)
Villaflor handled the night market's documentation and application process with the appropriate government agencies, while Suavengco focused on the operations side.
The two said it took a month's time to complete the paperwork, and another 15 days for the build-up to the opening day.
The Rigga Night Market, which is open from 4am to 2am, will run till May 31 next year.
Image credit: whatsondubai