Dubai, United Arab Emirates: It's a family affair indeed for Ganesh Rana and his daughter, Shweta who have teamed up to run a chic dining destination in Dubai named after one of the coolest animal on earth – the zebra.
"The zebra is very calm animal and it's one of my favorites," says Ganesh. "So, after a discussion with my partners, we came up with the idea of creating a zebra-themed café," he added.
Ganesh, specifically referred to Hadi Sulaiman, a business partner, whom he described as "one example of a good human being; the man behind all this undertaking."
Forty-six-year-old Ganesh, who arrived in the UAE from Mumbai 26 years ago, is Zebra Café's CEO and managing partner; his daughter Shweta handles the operations – from supply chain to customer service…the whole nine yards.
"Food and beverage business is my passion," says Ganesh. "Zebra Café is my first concept," he also said, adding that he intends to open branches and franchises across GCC.
Shweta came into the picture one day when she told her father about her plans. "She asked me, 'Dad, can I work as barista?' And I said, 'No. We will open our own café.' So, when we opened Zebra, she started as a barista, herself," Ganesh said.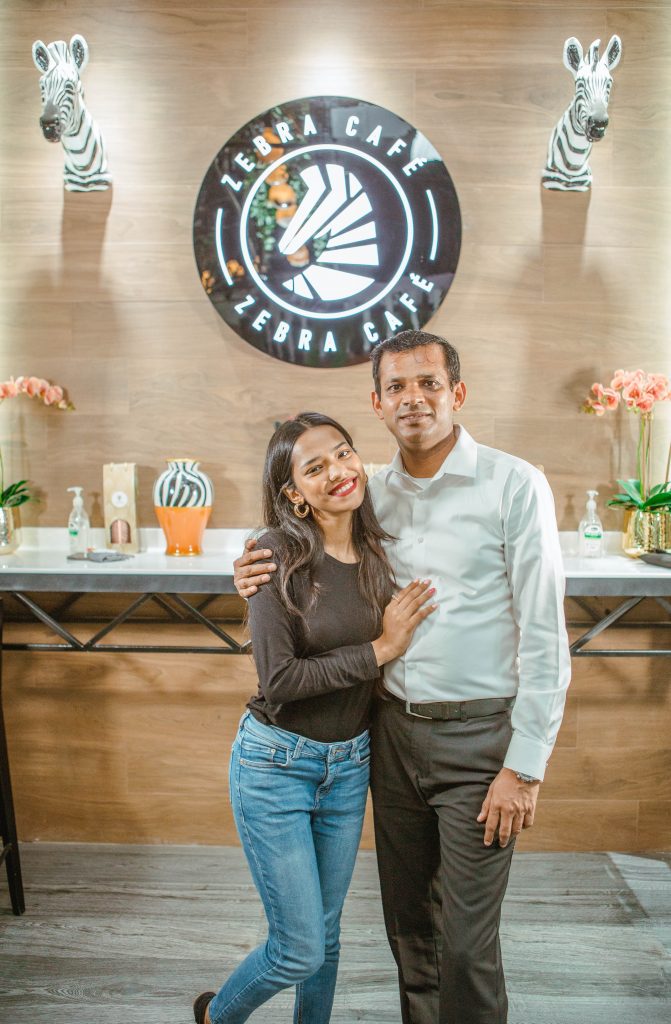 Shweta, who also has her own clothing store and is into modeling, said she could not have asked for more working with her father.
"I think it's the best thing in the world. I get to learn so much. My teacher is my father. I can just call him anytime and wouldn't be afraid to ask questions that I'd otherwise be scared to do if he had been another person and my boss," Shweta said.
"He always treats me like a staff. I actually like it. It keeps me on the ground. It's a blessing to be able to work with my father," Shweta added.
Shweta said growing up and seeing her father work so hard keeps her going. "That's my motivation, definitely. I have seen him having sleepless nights because of work," she said.
Ganesh, for his part, said he owes his success to his wife – the two have been married for 33 years. "I would give 90% credit to her," he said.
He said he learned the art of cooking from her wife, sharing that the first phone call he made to her shortly after he arrived in Dubai years ago was how to prepare fish curry.
Ganesh was, at the time, planning to cook meals for at least two days' food for lunch at work as he was new in the city and had to minimize expenses. "But my colleagues finished the fish curry in 30 minutes," he happily recalls.
And thus began his journey in the kitchen, apparently realizing he has the knack for cooking.
"So, what you see at Zebra Café is 100% my recipe, what I have learned in my 29 years of career," Ganesh said.
"Learning never stops. When I first came to Dubai I told myself, I am going to be general manager (GM) of one of the companies here. Within eight years, I became GM of an international restaurant chain.
"I have had failures in my life. I have fallen down many times, but I never gave up. Giving up is not the solution," said Ganesh.
Zebra Café offers international cuisines – from the US to Italy; from India to the rest of Asia. Check it out.