Harmeek Singh arrived in Dubai an expat worker some 20 years ago.
Today, Harmeek is Chairman and Founder of Plan B, a multi-faceted live experience and event management agency that has offices in the UAE, Saudi Arabia and Europe, known for its innovative event concepts and flawless execution standards, using the latest technologies.
Aside from managing Plan B, Harmeek, who hails from India, is also the Strategic Director for the UAE Athletics Federation as well as Chairman of Visit St. Petersburg for the Middle East region; and regularly collaborate with various stakeholders for the greater success of the events industry in the region.
On the side, Harmeek wears a different hat – that of being a community advocate.
He says social and community activities are an essential part of doing business for him, to be able to give back and to uplift the plight of those who have less in life and are marginalised.
"I particularly work with the labor sector in the UAE, through our 'Box of Hope' project where we have so far flown more than 250 people during Covid-19 back to their home countries, as well as provided shelter to the destitute while delivering more than 50,000 food boxes to labor camps in the UAE. On an ongoing basis, we provide legal assistance and other advice to help our valiant labour force deal with the challenges they face at work," says Harmeek.
How did it all start?
"It has been a long and fruitful journey. Like many others, I started as an expatriate worker in Dubai, but saw the potential of a city that has progressive leaders and an exciting vision to turn the emirate into a global hub for business, tourism, leisure and entertainment activities," he said.
"Having seen that potential, I decided to embark on my own entrepreneurial journey and started Plan B with a mere AED2,000 of my own savings. Like any company, we had humble beginnings and started with small projects – with a vision to become a leader and benchmark for creativity and excellence in our sector.
"Slowly, winning client projects through word of mouth and referrals enabled me to put together a strong team and build the foundation of a growing and resilient business that now has offices in the UAE and Saudi Arabia and will soon expand in Southeast Asia and Russia," Harmeek said.
It can also be said that Harmeek's life philosophy has contributed to his company's success.
"I believe in the dignity of hard work as well as being honest and humble in all my dealings with people," said Harmeek, who holds a Bachelor of Arts degree in English Literature from Delhi University
Harmeek said he has had so many lessons learned in his journey "but nothing beats hard work and perseverance."
"At Plan B, we try to be as innovative as we can in developing event concepts for clients and always aspire for flawless executions. We have been rewarded with great projects and have been privileged to work with many reputable local, regional and international brands and organisations that have allowed us to strengthen our position as a leading event management and live experiences company in the region and beyond.
"Transparency is also key to our success, dealing honestly with suppliers and clients especially on challenges and difficulties that every project entails, so that together we can work on solutions that are beneficial to all concerned," he said.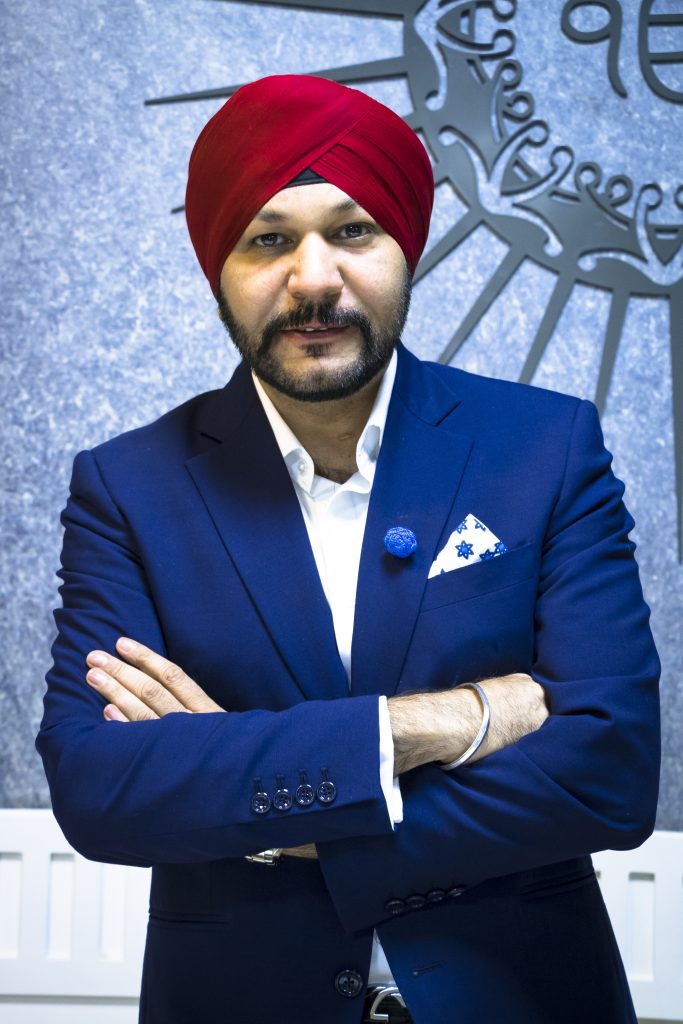 Advice to people?
"If work hard enough, you can dream big and achieve those dreams regardless of your colour or ethnic background. I am a living proof of that and always advise people that there are no shortcuts to success.
"And no matter where I go, I always keep my feet on the ground – it is from humility that I draw the strength to face each challenge as a learning opportunity and a step towards further growth, personally or professionally," Harmeek said.
For those working in the event industry, the challenge is to always be creative, which is why, Harmeek said, he encourages my team at Plan B to wear that hat all the time in responding to client briefs and developing our proposals. "This is the best tool we have for winning projects and ensuring we have a business ready for the challenges of the future," he said.
Harmeek said Plan B has "a robust expansion plan in place, especially in the post pandemic era.
"I see a bright future as more regional and international events will take place in the UAE and the Middle East; while also taking advantages of opportunities in Europe and Asia, where we hope to see our future operations also becoming firmly established," he said.