Planning the perfect date for you and your significant other? Take it to the land of love and luxury! Dubai is known for its luxurious dining experiences and offers a wide variety of romantic restaurants that are perfect for a special romantic occasion. Whether you are looking for an intimate candlelit dinner or a beautiful outdoor setting, there are plenty of intimate restaurants to choose from in Dubai. Here is a list of the best romantic restaurants to visit in Dubai for a lovely brunch or dinner date night with your beloved.
La Cantine du Faubourg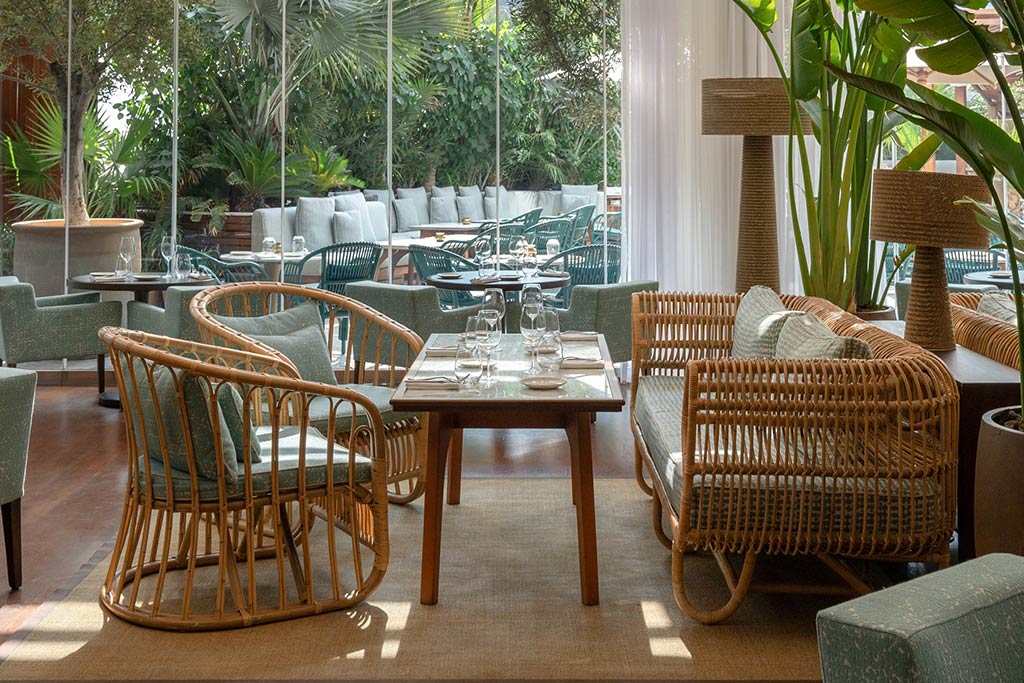 This French-inspired restaurant is ideal for a romantic brunch or dinner. The restaurant has an artistic flair and is a smart casual and elegant attire venue, making it a chic and classy experience. The menu features French gourmet meals ranging from appetizers of Gillardeau oysters and foie gras terrine to a rich main course of Caviar pasta, Lobster Spaghetti, Lamb chops, and more. La Cantine du Faubourg, with its warm lighting and cosy atmosphere, is one of the excellent Dubai romantic restaurants to enjoy a glass of wine and a delicious meal with your loved one.
Location: 105 Jumeirah Emirates, Emirates Towers Hotel, Sheikh Zayed Road
Cuisine: French
Timings:
Monday to Thursday: 12:00 pm to 2:00 am
Friday: 12:00 pm to 3:00 am
Saturday: 7:00 pm to 3:00 am
Sunday: 7:00 pm to 2:00 am
Brunch timings: 3-hour meal package available from 12:00 pm to 5:00 pm on Saturdays and Sundays.
At.mosphere, Burj Khalifa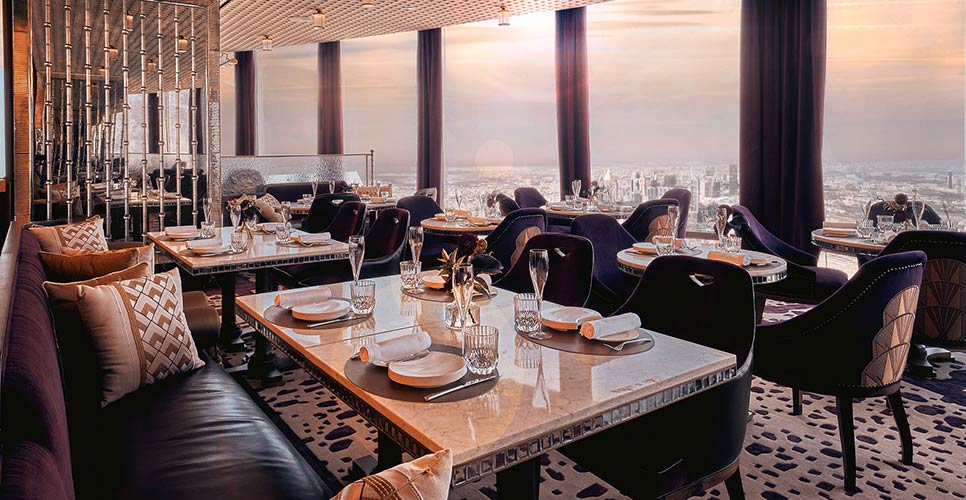 At.mosphere is as high as you can go in the world for an impressive, high-class fine dining experience among the clouds! This elegant restaurant on the 122nd floor of the world's tallest building, the Burj Khalifa, is the best place to impress your love with breathtaking views of the emirate. At.mosphere is the ideal place to spend a romantic dinner with your loved one, with its scintillating views of the city at night and contemporary interior vibes. The menu features expertly prepared contemporary French cuisine served in an admirable setting.
Location: 122nd level – Burj Khalifa, Downtown Dubai
Cuisine: French
Timings:
Daily 7:00 am to 4:00 pm and 5:30 pm to midnight.
Koko Bay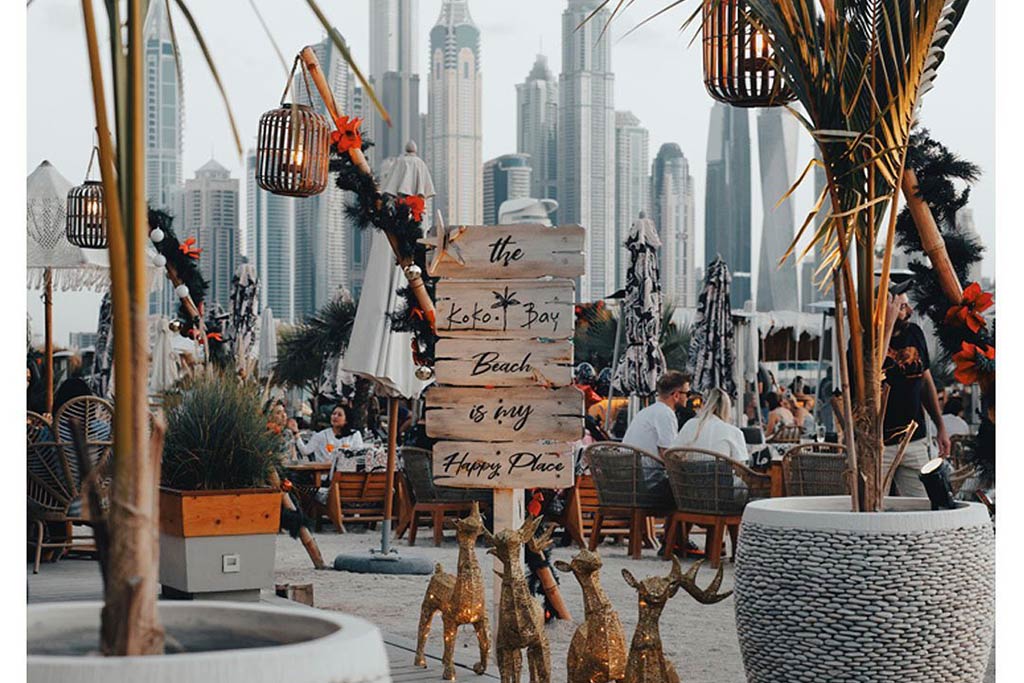 Revel in a slice of Asian tropical Paradise at Koko Bay. This beachfront restaurant is the perfect idyllic setting to spend time with your beloved amid sweeping views of the brilliant blue Persian Gulf. Choose from a menu that showcases brunch and meals that has a melange of Asian and European flavours and entices you to try some delightfully crafted cocktails as well. The restaurant is quite known for its wood-fired grilled dishes and delectable seafood cuisine.
Location: West Beach Palm, Jumeirah
Cuisine: Asian and European
Timings:
Daily 10:00 am to midnight.
Pierchic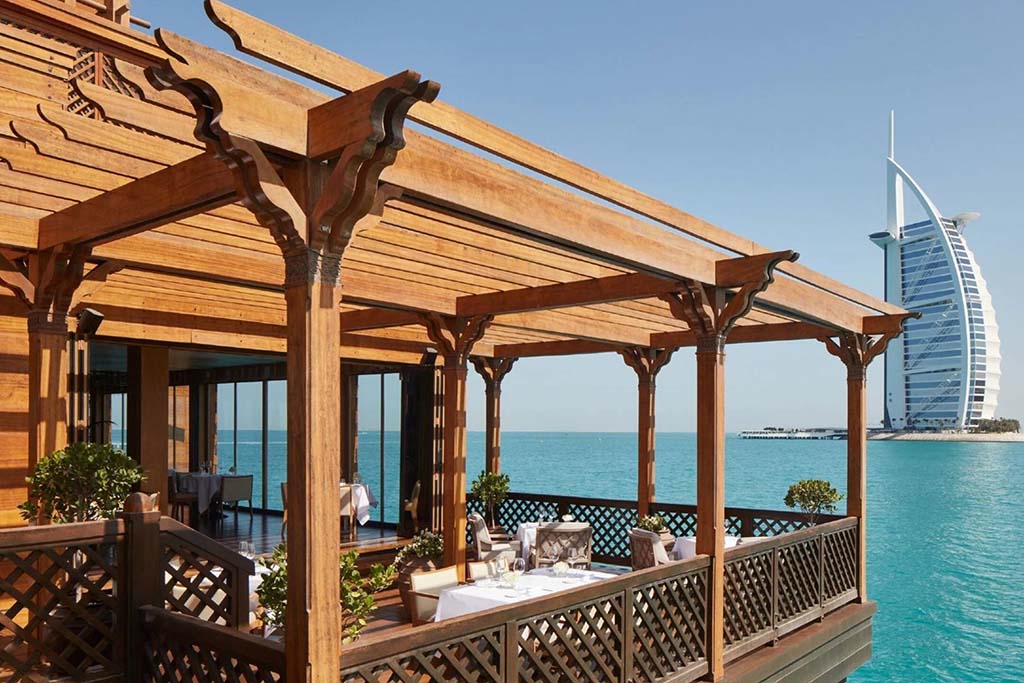 Discover a romantic restaurant at the city's edge with unsurpassed Persian Gulf views as you rekindle your love. There is no doubt that Pierchic, an alfresco restaurant located atop a pier that extends into the waters of Dubai, will be one of the most memorable dining venues you have ever experienced together. Featuring lobsters, clams, and other seafood favourites, the seafood menu is refreshing and lip-smacking. A romantic dinner on the water at Pierchic is made even more special by the stunning views of the Arabian Gulf and the Burj Al Arab from its over-water and far-from-the-shore settings.
Location: Jumeirah Al Qasr, Madinat Jumeirah
Cuisine: Italian Seafood
Timings:
Lunch: Daily from 1:00 pm to 2:30 pm, Dinner: Sunday to Thursday: 6:30 pm to 10:00 pm, Friday and Saturday: 6:30 pm to10:20 pm
Folly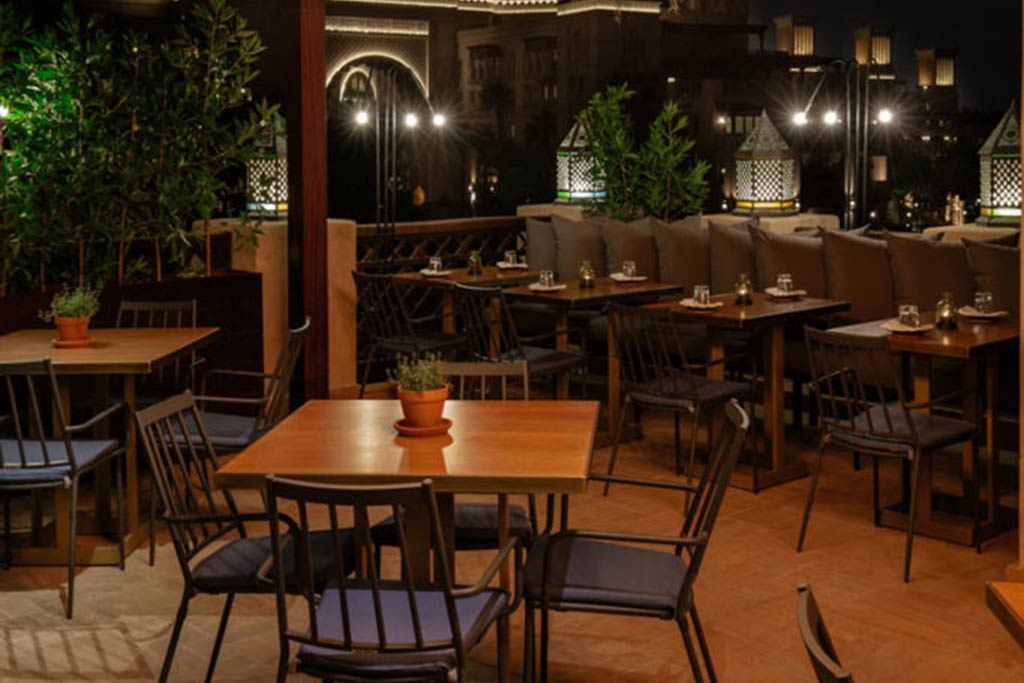 This award-winning restaurant offers a modern take on European cuisine while nestled in a scenic setting of old-world charms and contemporary glimpses. The restaurant has intimate dining rooms, an 8-seater open kitchen area with live cooking sessions from chefs, and an outdoor terrace seating area that overlooks Madinat Jumeirah's meandering brooks, creating a relaxed atmosphere for casual conversations and sumptuous meals. Folly is one of the ideal romantic restaurants in Dubai for a romantic date or occasion because of its warm, intimate atmosphere and lovely decor.
Location: Unit 27, Souk Madinat Jumeirah, Madinat Jumeirah.
Cuisine: Contemporary European-inspired menu.
Timings:
Dining Room Restaurant – daily from 6:00 pm to 11:00 pm
Saturday Brunch – 1:00 pm to 4:00 pm
Sunday Brunch – 3:00 pm to 6:00 pm
The kitchen bar is open only from Tuesdays to Saturdays.
Rooftop dining – Daily from 3:00 pm to 11:30 pm on weekdays and 3:00 pm to 12:30 am on weekends.
Dhow Cruise Dubai Dinner Experience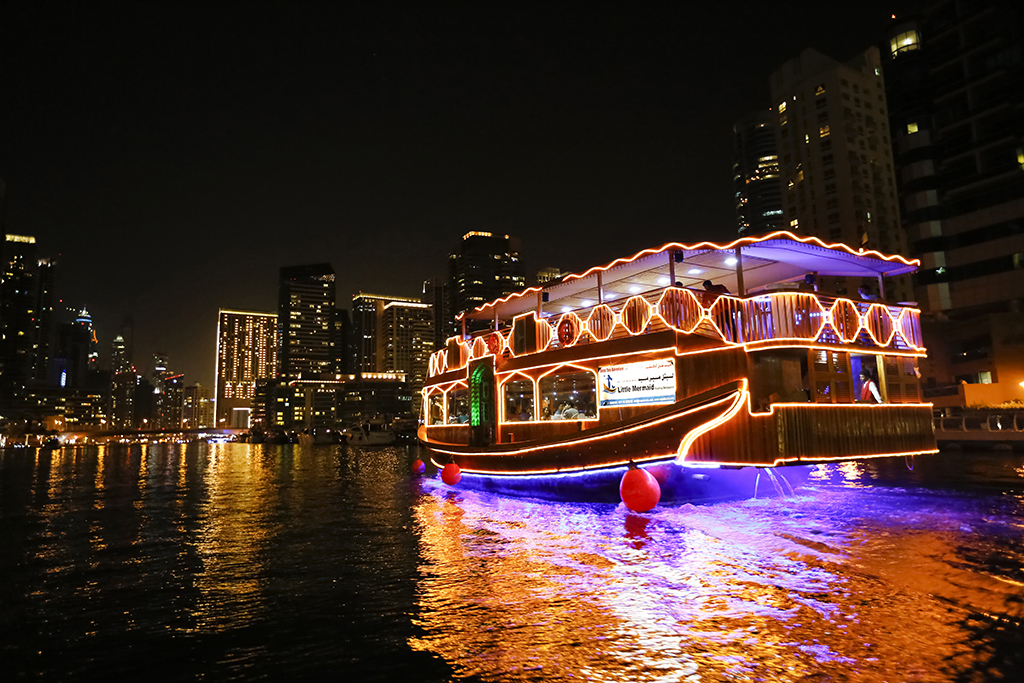 Choose an extravagantly traditional experience for your date night. Celebrate your love with an intimate dinner on a wooden dhow. The Dhow dinner cruise Dubai experience offers a one-of-a-kind romantic dining experience on a floating restaurant, which is actually a traditional wooden boat that glides along the waterways of Dubai Creek or Dubai Marina, providing stunning views of the city's skyline. With a refreshing breeze, illuminated city views, and delectable cuisine to delve into, a dhow cruise is the ideal way to celebrate a special occasion with your loved one.
Location: Dubai Creek or Dubai Marina
Cuisine: International or traditional Arabic cuisine
Thiptara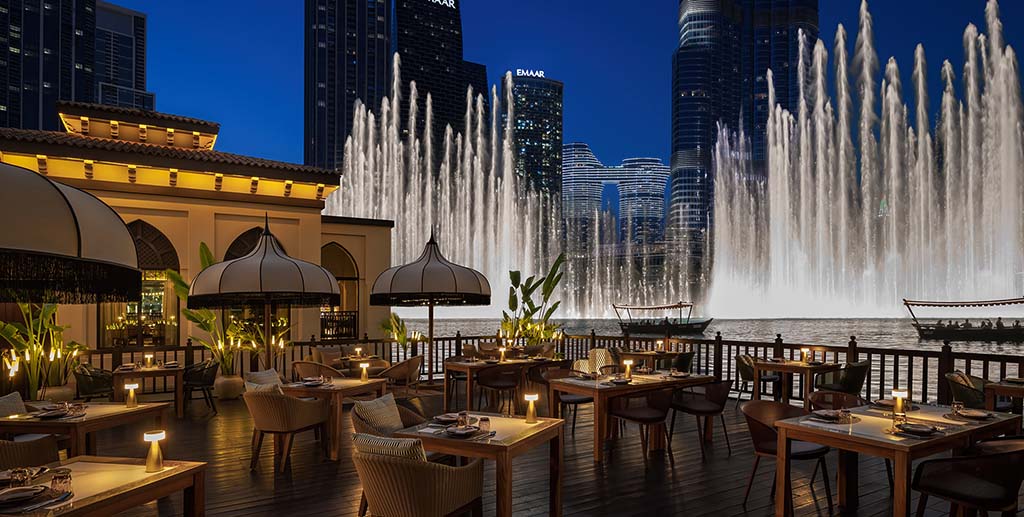 Thiptara, an elegant Thai restaurant overlooking the Dubai Fountains and the Burj Khalifa, serves delectable Thai gourmet cuisine. The restaurant, located at The Palace Downtown hotel, has an elegant atmosphere and specialises in Thai cuisine with an emphasis on fresh seafood and traditional Thai herbs and flavours. For a romantic dining experience, the restaurant also has outdoor seating along the waterfront. With stunning city and fountain views, it is the ideal place for a romantic date or to celebrate special occasions with your loved one.
Location: Lobby Level at Palace Downtown, Downtown Dubai
Cuisine: Asian/Thai Fusion
Timings:
Dining venue: Daily from 6:00 pm to 11.30 pm
Lounge: Daily from 5:00 pm to 2:00 am
Saturday Brunch from 12.30 pm to 4:00 pm
From elegant rooftop venues to floating restaurants and stunning outdoor settings, Dubai has a wide range of romantic dining options. The restaurants mentioned above are just a few of the best and most memorable ones for a romantic date in Dubai. There are numerous options in Dubai for a romantic dinner with stunning views, a chic, contemporary atmosphere, or a menu featuring classic dishes with a modern twist. So, make your reservation now and get ready to celebrate love in luxury and style!