Tickets start at AED 215 and are available to buy via www.etihadarena.ae, platinumlist.net and www.andrerieu.com
André Rieu, world-renowned Dutch violinist and conductor, is set to captivate audiences in Abu Dhabi's Etihad Arena with his long-awaited show on Saturday 9 March, as part of his world tour 2024.
Presented by MAC Global in association with Abu Dhabi Culture, audiences can expect to be transported into a world of enchanting melodies as André Rieu leads his Johann Strauss Orchestra, chorus and many international soloists in a repertoire that spans classical masterpieces to waltzes, show tunes and songs from film, opera and musicals.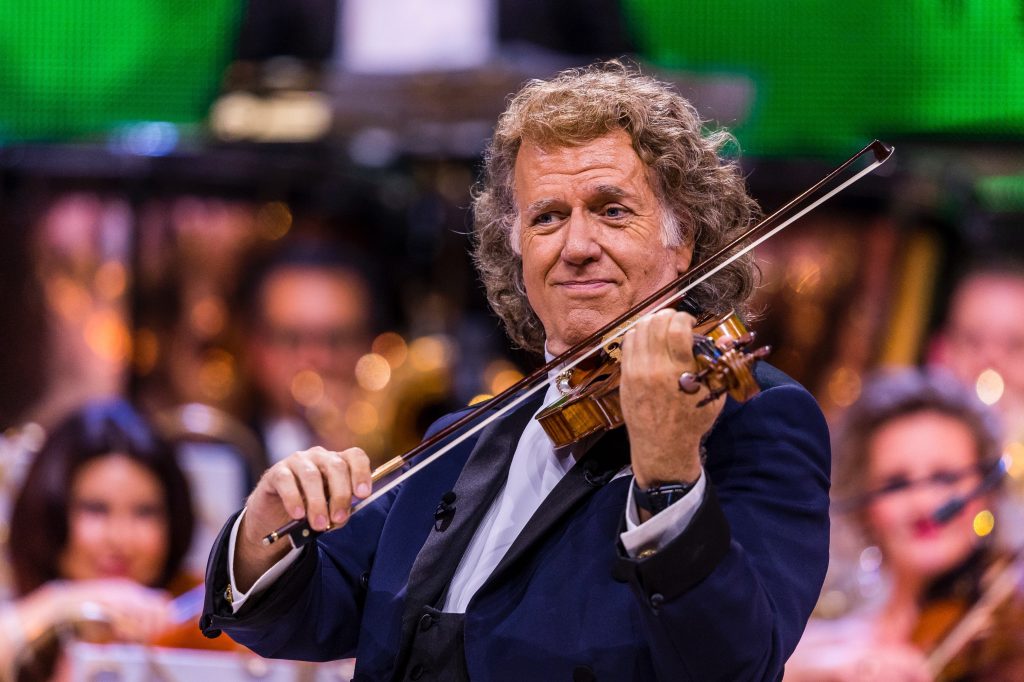 André Rieu, one of the world's most popular musicians, has sold 40 million albums and is known for his high-energy, romantic and joyful performances. His concerts often feature dazzling light shows, elaborate costumes, and plenty of audience participation, making them a truly unique and immersive experience. This sense of community and celebration has made his concerts a hit with audiences of all ages and backgrounds. The upcoming concerts promise to be no different, with André Rieu and his Johann Strauss Orchestra set to bring their signature style to Abu Dhabi.
André says: "Emotions are the key! When a piece of music touches my heart, I know it will touch your heart too. I am very much looking forward to coming to Abu Dhabi next year with my Johann Strauss Orchestra, choir and many international soloists. I hope to see you all singing and dancing in the aisles! Much love!"
Special guest on this tour is 15-year-old Emma Kok who went viral with over 60 million views across all social media platforms for her rendition of "Voilà" the French ESC Song from Barbara Pravi.
André Rieu's tours are regularly outselling the world's top pop and rock stars. His concerts are also a visual treat, from the sight of him and his musicians entering through the crowd and up onto the stage at the beginning of the concert, to the lavish costumes and the vast screen behind the orchestra displaying beautiful imagery tailor-made for each song, guaranteeing a magical evening for the whole family. An André Rieu concert is an unforgettable experience for anyone who loves great music, romance and a party.
André Rieu's YouTube videos have reached over one billion views; 10 million fans follow him on Facebook, 1.7 million on Instagram and over 1.3 million on TikTok.
Get ready to experience another great night with the Abu Dhabi Classics Concert series, when the Dutch violinist and his 60-piece Johann Strauss Orchestra –- will finally come to Abu Dhabi to display their musical magic.
A range of ticket types are available from www.etihadarena.ae, platinumlist.net, priced AED 215 – AED 1,700.
Listing information:
Concert: André Rieu and his Johann Strauss Orchestra
Venue: Etihad Arena
Date: Saturday 9 March 2024
Time: Doors open at 18:30 / Show starts at 20:00
Tickets: Etihadarena.ae / Platinumlist.net
Prices:
Royal Plus – Floor : AED 1,700
Royal – Floor : AED 995
Platinum – Floor : AED 795
Diamond – Floor : AED 695
Diamond – Lower : AED 625
Gold – Lower : AED 525
Gold – Lower Club Package (VIP Package) : AED 699
Emerald – Lower : AED 460
Silver – Lower : AED 425
Ruby – Lower : AED 325
Bronze – Lower : AED 225
Bronze – Upper Premium : AED 225
Bronze – Upper Standard : AED 215
Wheelchair Accessible Seats – Companion Seats : AED 450