Experience authentic Thai cuisine amid the Downtown Dubai Skyline with Benjarong's Friday brunch, serving unlimited dishes, beverages, and more, from 12:30pm to 4pm for Dhs220.
Tuck into a midday treat at Benjarong and enjoy a three-course meal with their new daily Business Lunch deal from 12pm to 3pm for AED109.
Savor a selection of spirits, grapes, hops, alongside an amazing unlimited three-course dining experience with Benjarong's Ladies' Night offer every Sunday to Tuesday, from 7pm to 10pm for Dhs199.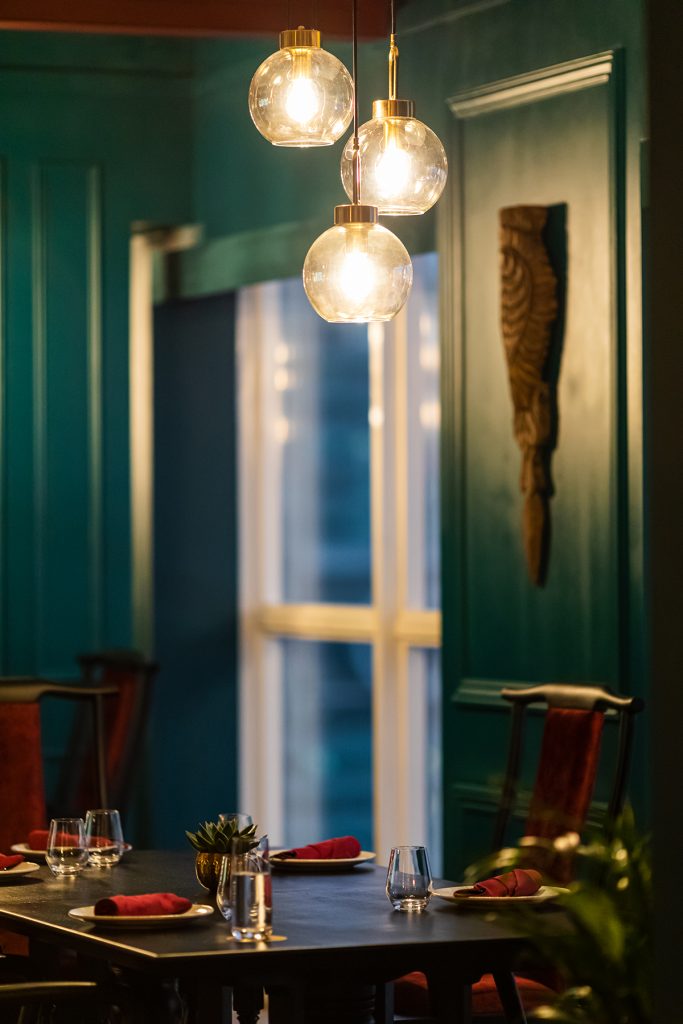 Dubai's iconic Thai restaurant, recrafted – Benjarong is ready to take guests on a true Thai journey as they launch their special offers that bring authentic Thai cuisine and casual luxury vibes together. From indulgent weekend brunches to casual workday business lunches to a ladies' night out on the town, Benjarong will take guests on an unforgettable taste of Thailand.
Sitting atop the 24th floor of Dusit Thani Dubai, with picturesque views of Burj Khalifa and the wandering cityscape, this distinctive space sets the scene for an immersive experience for all. Truly a magical culinary and social escape, with dishes crafted from the freshest ingredients, secret recipes, and flavours full of harmony and balance, along with exquisite interiors and the highest quality of service, the Benjarong experience will keep you coming back for more.
Friday Brunch
An ideal treat for the weekend, indulge in Benjarong's upcoming Friday brunch offer, from 12:30pm to 4pm, set to launch on 4th December 2020. With carefully curated menus, that cater to vegetarian guests as well, enjoy unlimited dishes and soft beverages as well as access to the 24th St. buffet for only AED 220.
From their flavorful hot and cold appetizers to their mouth-watering main dishes like Gaeng Kiwe Wan Gai (classic chicken green curry with Thai eggplant and sweet basil leaves) and the Chef's signature Khao Soi Goong (egg noodles, massaman gravy with coconut milk, served with prawns, chili powder oil, shallots, pickled cabbage and lemon) to their delectable desserts, Khao Neaw Mamuang (sticky rice flavoured with pandan and served with mango and coconut ice cream) sure to satisfy guests' sweet tooth – there are an outstanding variety of dishes to get those tastebuds tingling.
Once guests have powered through the a la carte menu, they can head over to the 24th St. World Street Food spread and continue feasting on over 50 specialties from the Thai, Japanese, Chinese, Korean, Indian, Arabic, and Italian kitchens as well as enjoy the live cooking stations that is sure to stir up that second wind.
Additionally, guests can opt for either unlimited house hops, and red and white grape for AED129 or unlimited house spirits, hops, as well as red, white, and sparkling grape for AED149.
Friday Brunch
From 12:30pm to 4pm
AED 220 per person
Includes: unlimited a la carte from the Brunch Menu + unlimited soft beverages + access to 24th St. buffet spread
Additional Packages available:
AED 129 per person which includes unlimited house hops, red and white grape
AED 149 per person which includes unlimited house spirits, hops, red, white and sparkling grape
Business Lunch
Recraft your lunchtime expectations and take yourself out for a midday authentic Thai delight with the all-new Business Lunch deal at Benjarong. Tuck into a 3-course culinary experience with their carefully curated menu offering an assortment of flavourful dishes designed to amaze the appetite and excite the senses daily for only AED 109. Guests can also enjoy refreshments of unlimited Thai iced tea, and coffee or tea for an additional add-on of AED 25.
Business Lunch
Daily, from 12pm to 3pm
AED 109 per person
Includes: 3-course menu (choice of soup/salad/appetizer; main course and dessert)
Additional Package available:
AED 25 for unlimited Thai iced tea and coffee/tea
Ladies Night
Let your hair down and unwind with an outstanding selection of delectable dishes and eclectic beverages, amidst an aesthetically intriguing atmosphere of vibrant colours that will surely make for a fun, Ladies' Night at Benjarong. From Sunday to Tuesday, enjoy and sip on a selection of unlimited house spirits, hops, red, white, and sparkling grape partnered with an amazing 3-course meal leaving you feeling completely elated and elevated on a weekday.
At Benjarong every element of your experience is Instagram-able gold, from appetizer to main course to dessert, as well as their irresistible refreshments, your appetite will be as amazed as your social followers.
Ladies Night
Sundays to Tuesdays, from 7pm to 10pm
AED 199 per person
Includes: 3-course menu [choice of soup/salad/appetizer; main course and dessert] + unlimited house spirits, hops, red, white and sparkling grape