Kate Hardcastle MBE is an award-winning TV personality from the UK, who has appeared in numerous TV shows including BBC's Watchdog, ITV's Eat, Shop, Save, ITV's Tonight, Rip Off Britain and Inside Out to name a few.
Her vision for what the consumer desires and how businesses can meet it led to her being awarded the MBE in The Queen's Birthday Honours in June 2018 for Services to Business and Commerce.
Kate says: "I know that it often surprises people to hear I was actually a singer as a first career. I think due to reality shows, we are used to the switch from a 'normal' career into one on the stage – but perhaps not the other way around!
"And certainly not that someone chose that route. I was so passionate about my studies, and I was enjoying where that road was taking me – that while the thrill of the lights, stages and big audiences will always have appeal, that career also came with a lot of waiting around. I wanted to be a 'rock n roll business' star instead – and you know what? I have just realized I might well be on the way to it. I tour the world, perform on big stages, and have my own shows – the route was just a different one!"
Kate has launched a new global sustainability platform "Buy Smarter Buy Greener," where she encourages consumers to make better choices, as well as an innovative podcast "Rock n Roll Business" giving business learnings from the music industry given her early career as a singer.  She's also a busy juggling working mom of three!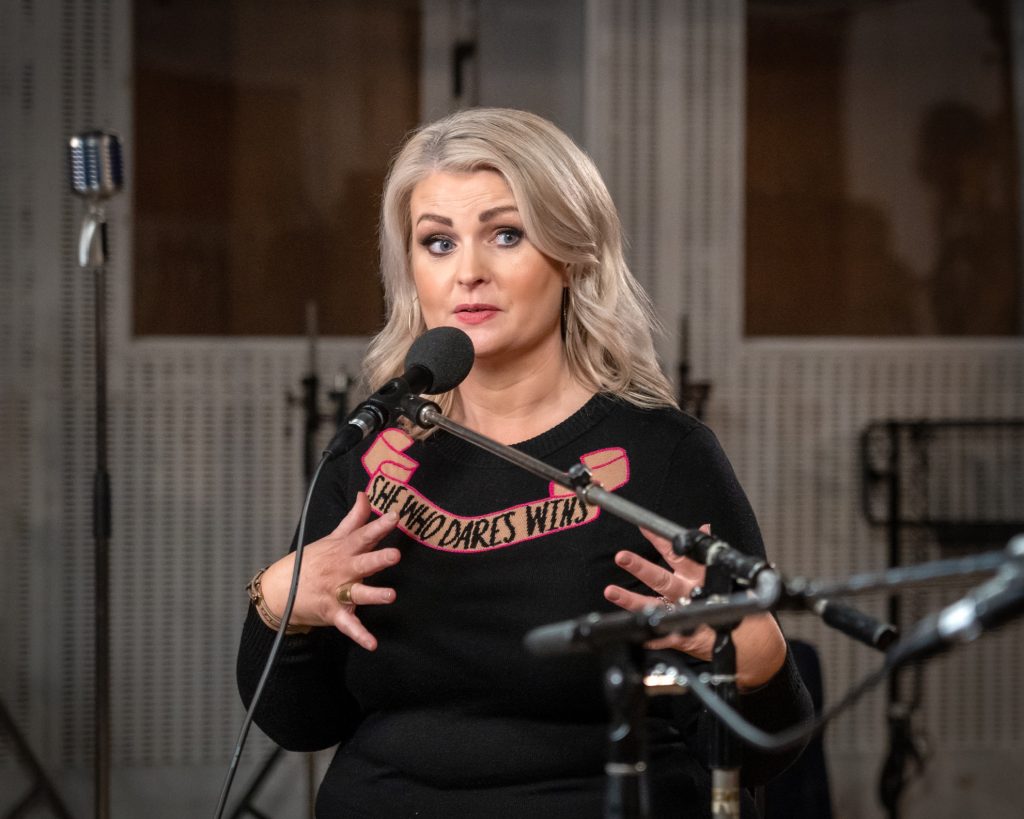 "As a busy working mom of three, I care about issues such as sustainability and like many, I want to do my bit to protect the planet and its people for future generations. At the same time, we don't always have the time and money to source the right solution, and nobody needs a guilt trip about their choices – just ideas on how to make changes that are right for them. These tips and advice won't break the bank and will examine everything from health and beauty products to eco-friendly travel," she says.
"Consumers want the businesses they engage with to 'be better' across a range of measures – from stakeholder engagement to diversity and inclusion – and of course, environmentally. Yet the communication between organization and buyer on green credentials and ethical policies can be overly complicated and technical. The whole process needs simplifying, jargon needs eliminating and an intermediary that is independent – Buy Smarter Buy Greener is the platform where both business and consumers can engage in s positive way to educate, inform and to all buy better," Kate further explains.
Kate, who takes her energy from her maternal grandfather who, she said, "has achieved so much as a disabled rights campaigner, as well as having a successful career in sports that I saw him completely as a 'person of determination,' said passion, persuasion and patience are values that have as well helped her in life.
"I am hungry to continually learn, and mindful to be respectful and authentic in my work," said Kate, who studied business in Salford, Manchester, UK and went on to study at the INSEAD institute in Singapore and Paris focusing on strategic partnerships and alliances.
"I see myself as an evergreen student, life and business evolves and moves so quickly we should be open to growing our minds and experiences each day," she said.
Lessons learned?
"You have two ears and a mouth, use them in that order. Try to really listen to what people are saying before you speak. Say sorry. I know that there are some business philosophies around how apologizing can be seen as a weakness – but it really doesn't have to be.
"If you can even apologize for the fact that someone has been made to feel a certain way or let down, even if there are a set of circumstances around that, it doesn't mean you are accepting all responsibility – it instead shows you have empathy. There is a right way to do things.
"Oh – and play the long game… yes there will always be a short cut, a quick win. Someone you might be able to charge a few more dollars here or there. Yet in life, I feel that respect is so important, and people will always remember how you made them feel. Believe me, you have no idea who is connected to whom and what might just be around the corner. Try keep that karma on your side."
And her advice?
"You have to be comfortable when you put your head down on your pillow to sleep at night that you did the right thing. And if there are things you need to change tell your self: 'Tomorrow will be the first day of the rest of my life. I will start that day making the changes I want to see to be the person I want to be'
"And I can only do that if I sleep – so please find ways in which to get your sleep it is the root of good health."