"In my days in the 80s…it was 1986 when I first started, the idea was to join an industry and you'd probably stay in that same industry for the rest of your life" says Pierre Delfau, general manager of Southern Sun Abu Dhabi.
He adds: "These days, it's quite different. I would not say that's the right thing to do, but in my time, certainly what you would do is to start an industry and then probably stay there. So, I started with Southern Sun, and I spent 12 years with them originally, to the point of becoming deputy GM.
"And then I went on to a resort environment, which gave me another type of experience, another type of customers that I had to deal with. It was a fantastic time there at the resort, five years.
"And then I went back into the city to what is now the Four Seasons Hotel in Johannesburg (in South Africa). It wasn't the Four Seasons in those days when I worked with them, it was called the Orient Express Group of Hotels and I joined that property, which again gave me another element in my career growth because it was really focused on food and beverage."
Fast-forward to the present: "My journey with Southern Sun Abu Dhabi started in 2012. I was the opening GM of this property, so really, I saw it growing from next to nothing to what it is today, which is really a fantastic 353-bedroom hotel," says Mr. Delfau, who was born in France and grew up in South Africa, where he had his introduction to the hospitality industry.
"We opened our doors in April 2014. At that time, we really put something in Abu Dhabi that nobody else had as a four-star property. The size of the hotel as well as the amount of food and beverage that we have here was definitely something unique. Even to these days, I think it's a fantastic property to stay not only for leisure and business. In actual fact, when we build this property, we thought that the primary customers would be the business segment, when in actual fact, there's a large amount of leisure tourists who stay here and stay here because of what we have to offer and where we are located, being close to the Cornice."
These days, one might wonder how Mr. Delfau's day start and how he runs the hotel.
"My day starts about 4:30 in the morning… when I catch up on what happened the day before on my iPad, before I get to the office, and I get here very early," he shares.
"I usually start by taking a walk around the hotel and see what's happening in the various areas. Obviously, a lot of my time is concentrated on looking at the business. And it continues right through the day talking to our colleagues and seeing what our colleagues are doing. In a place like this, you have nearly 200 colleagues working. How do you keep them motivated at work?
Mr. Delfau, who started working when he was 18, clears the line between his role as GM and that of his staff.
"The role of a general manager, I think is really to be a visionary in the property because you have to set a vision, you have to set goals but also to look after the team because at the end of the day, they're the ones who are at the forefront of the hotel.
"I bring a team in that is able to deliver what is expected of them. I always tell people it's the wrong thing to employ somebody and always having to tell that person what to do. You meant to employ somebody that knows what to do and that is able to deliver what you expect them to deliver."
He further explains: "It's like asking an executive chef to come into the organization and dictating what the menu is going to be all about, what the food is going to be all about, what the dish is going to be all about. No, that's wrong. That's why you've got an executive chef. That's why they have to be creative. That's why they have to create something… that you will find fantastic.
"I'm a general manager. I'm not a chef. I'm not a chief engineer. So, for me, I'm more of a person that would allow the people to deliver on the expectations. Obviously, if I see that something is not going quite right, if I feel something needs to be changed, I will make it known. I will let the key person know that something needs to happen. Otherwise, you can't really do everything yourself. It's impossible to do that."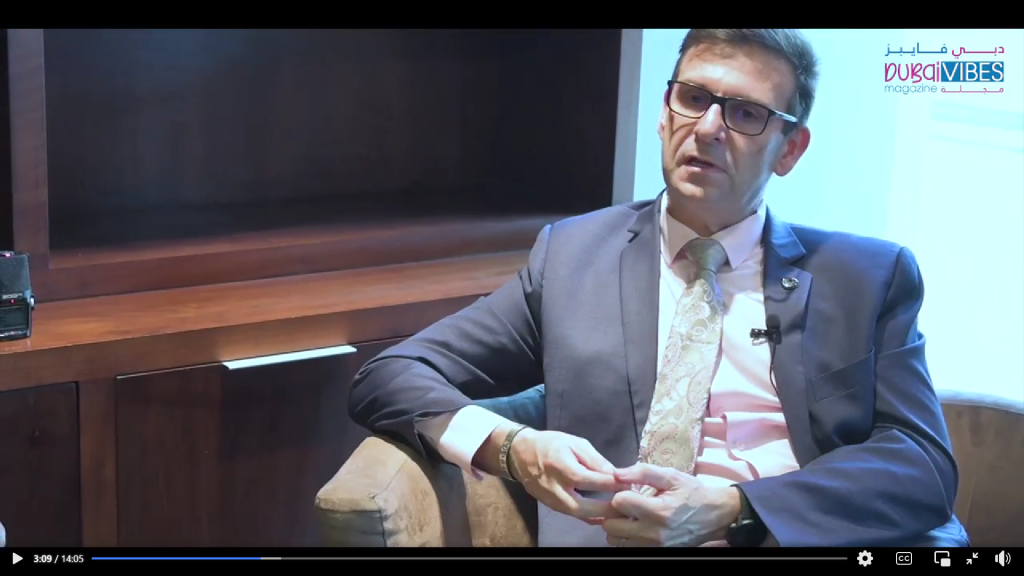 And what does he speak to his staff about?
"I always tell them, "Guys, this is one hotel out of thousands of hotels. If I can't give you the opportunity to grow and somebody else can, you need to grab it. Always continuously grow in this industry. The hotel industry is one industry where you can do that pretty quickly if you want to, especially these days.
"So, if you think you are able to apply for a new position available, do it, do it all the time. Progress, progress, progress. Eventually, you will come to a stage where you want maybe more stability and say, "Well, I'm going to stay in that position for about years".
"As you grow, you need to be flexible. You need to grab it when you can. Do not stagnate. Some people say it's a curse, other people love it. It just suits the times at the end of the day, and it has some great benefits, it has some great positions, but it also has some other sides to it."
Family?
"I met my wife, Cathy, in South Africa. We've been happily married for 27 years already. So, I'm one of those in the hotel industry that managed to keep the marriage going for so long, and we've got two beautiful children. My daughter, Shannon, she is 24 years old now. My son, Adam, decided to continue the line and he went into the hotel industry, and he still got it.
"When Shannon left here, yes, that wasn't easy. It's always hardest when the first one leaves the nest, you know, and then goes far away from here and she's no longer there (in the house) on weekends.
"But again, we have been Skyping all the time…when we were having dinner, we would put the laptop on the counter, and she would be having dinner with us. Yes, she was thousands of miles away, but she was present. You have to allow children the opportunity to grow up, to experience new cultures and to live on their own and to understand what it does to live on the budget as well."
Mr. Delfau also has some words about retirement: "Yes, of course, I plan about retiring. I think a lot of people do. When you reach my age, you start thinking about where do you want to be? How long is it going to take you to get there? But there's plenty to be done, so it's nowhere done, and it will never be done."
And success: "A lot of people measure success financially. I disagree. They are certainly financial successes, I agree with that. I think success is different for all individuals. You measure success. I measure success. It's going to be very different.
"On a personal note, I measure success as waking up in the morning, happy to get up… happy to get in my car, drive through…happy to get home, have dinner with my wife…happy with the way my family has grown up…with the way that I see my children growing up.
"Will I leave something behind when I'm gone? There's a lot for me to describe success on a personal note, rather than a professional note. If we talk professionally, I think I'm measuring success in what I do in this property and what I've done over the seven years. How you bring a brand at Southern Sun? Yes, that's how I measure success and all these things, you know, and not necessarily financially."