The Kusina Natin To' is a Filipino restaurant situated in Dubai's Al Satwa. It is a popular hangout spot for those who enjoy authentic Filipino cuisine.
As you enter, you're greeted by a beautiful environment, fantastic wall artworks, and calm modernity. Any table offers the best view of the restaurant's 360-degree feature, which is ideal for many types of occasions.
The restaurant is suitable for birthday parties, weddings, baptisms, meetings, corporate parties, and other special occasions that can accommodate 80 pax inside the restaurant. All you need to do for booking is visit the restaurant or set your reservation through their contacts both on mobile and online.
If you spend more than AED 4000 for an occasion with 50 guests in other restaurants, you can practically say Kusina Natin To' can offer you half of it or less.
They offer party packages from appetizers, soups, salads, beef, chicken, seafood, vegetables, noodles, and desserts. All are served unlimited for three hours. The price varies depending on the package you want. I put the list of menus and its price below :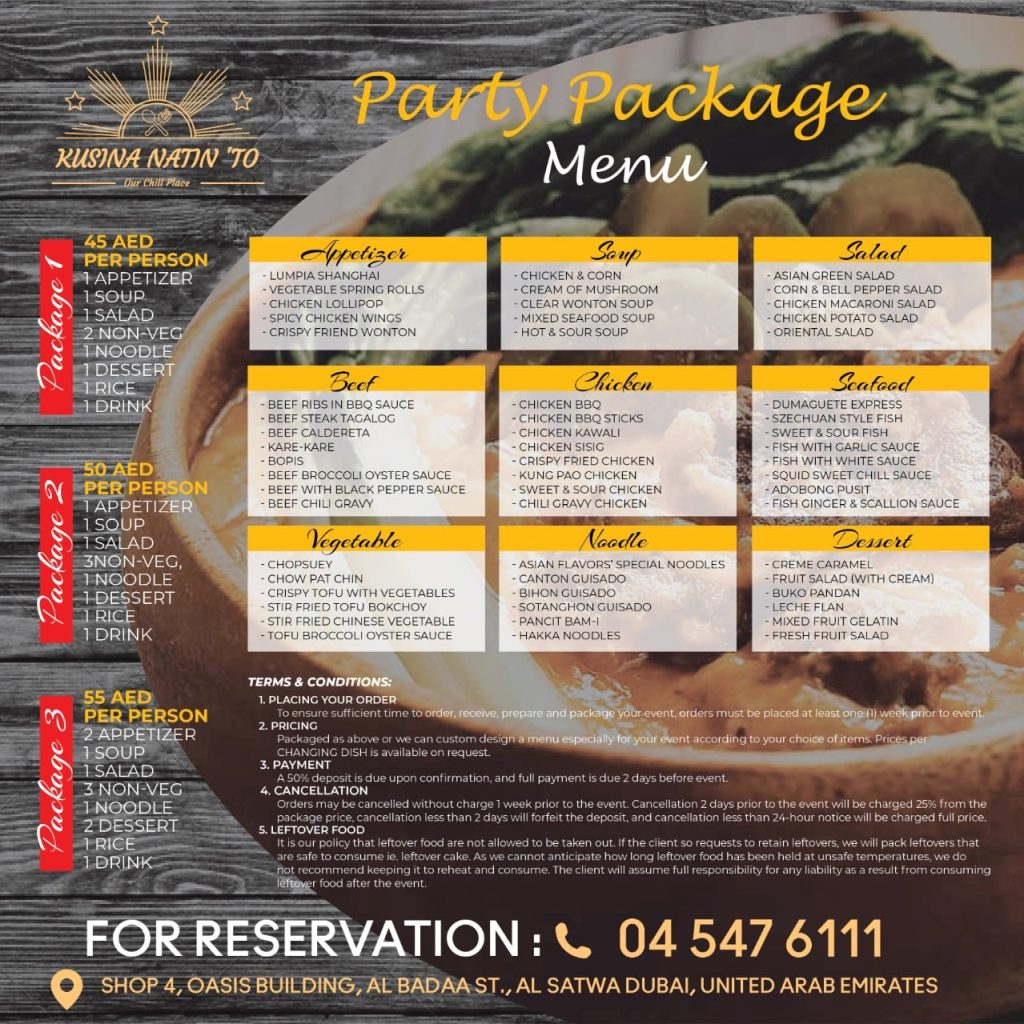 The menu features a wide selection of delectable Pinoy appetizers. The cuisine was prepared with fresh ingredients and a personal touch. Filipino chefs pay special attention to selecting high-quality ingredients. The waiters in this restaurant are incredibly attentive to the demands of the patrons.
They not only have the best food, but they also have the best service. Also, keep in mind that you can utilize their karaoke system for free.
I had a pleasant dining experience with food of the most exquisite Pinoy flavors. Highly recommend going and booking your next party with Kusina Natin To'.