In the dynamic world of clinical nutrition, Lima Fazaa stands as a beacon of expertise and compassion, guiding individuals towards a healthier, more vibrant life. With a DHA-licensed certification and a wealth of experience, Fazaa is at the forefront of revolutionizing the way we approach nutrition.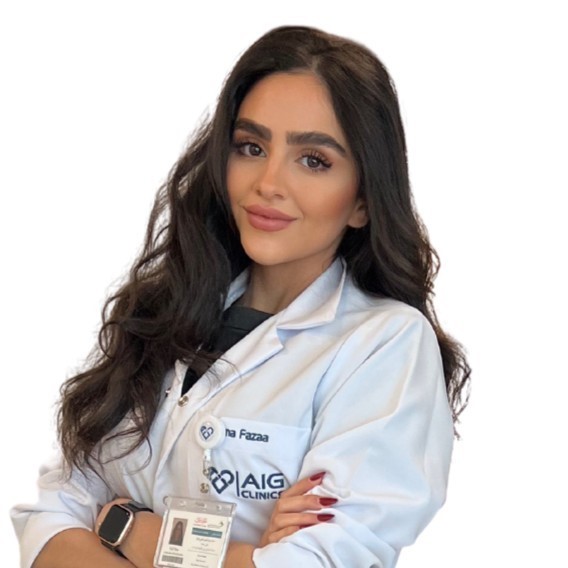 Born and raised in the UAE, Fazaa's journey in the field of nutrition began at the University of Sharjah, where she earned her Bachelor's Degree in Clinical Nutrition and Dietetics in 2017. Eager to dive into the practical aspects of her chosen profession, she embarked on her career at the Istishari Hospital in Jordan, where her passion for transforming lives through nutrition was ignited.
Fazaa's trajectory was marked by an insatiable thirst for knowledge. Her commitment to continuous learning saw her transition to NutriCenter, where she honed her skills as a Dietitian Trainee. Her dedication and keen insights quickly earned her recognition, propelling her into the heart of Dubai's healthcare scene.
Since 2022, Fazaa has held the pivotal role of Chief of the Nutrition Department at AIG Clinics, where her expertise spans the spectrum from obesity management to specialized areas like diabetes, gastroenterology, and bariatric surgery. Under her visionary leadership, the Nutrition Department has blossomed into a hub of innovation and holistic care, delivering comprehensive nutritional programs that have been instrumental in enhancing the overall well-being of countless patients.
Fazaa's approach is rooted in personalization. She believes that there is no one-size-fits-all solution to nutrition. Her clients receive tailored advice that empowers them to make positive lifestyle changes, setting them on a path towards lasting health and vitality.
Fazaa's partnership with Allurion, a leader in non-invasive weight loss solutions, has ushered in a new era of possibilities. Through their innovative gastric balloon program, which requires no surgery, anesthesia, or endoscopy, Fazaa is providing individuals with a safe and effective means of achieving their weight loss goals.
For Fazaa, the journey is far from over. Her dedication to the field of nutrition is unwavering, and she remains committed to pushing boundaries and exploring new strategies that empower individuals to make informed dietary choices. Her work not only transforms bodies but also lives, leaving a legacy of health and well-being in her wake.
In Lima Fazaa, we find a visionary force, a guiding light in the realm of clinical nutrition. Her passion, knowledge, and commitment to individualized care have made her a true luminary in the field. As she continues to forge new paths, one can only imagine the positive impact she will have on the lives of countless more in the years to come.