Insights shone a light on the importance of balance
Mustela, a leading French skincare brand founded in 1950 to offer a range of natural origin cosmetic products for children and the whole family – has initiated the 'Parenting Unlabelled' community project to empower and support parents throughout their journey. With an  objective to create awareness about parenting gender roles in the Middle East, parents across the region are encouraged to explore gender bias and to remove stereotyped roles between Mothers and Fathers within the family unit.
Workshops were conducted across the UAE, Egypt and KSA, where participants had a chance to express themselves and their voices to be heard. A Photovoice project was undertaken to document and explore modern parenting roles and gender responsibilities within the family. Parents were able to take photos expressing their feelings and challenges, and also to add their voice to those images through narratives explaining the vision of their photos.
Workshop outcomes revealed key insights into the roles of modern parenting;
Working mothers are struggling with their multiple roles inside and outside of the home. Mothers are weighted by the unrealistic expectation of the 'perfect' mother, wife and employee together with the mental load that they are carrying.
Meanwhile, Arab Fathers expressed a similar struggle but on a different level – which is the unrealistic expectation from marriage and what is expected from them within the partnership. Participating men also referred to the stigma around their roles as fathers and how it is often not accepted by their families and social 'judgements'..
Expat parents had a different perspective to their Arab counterparts and were more likely to be exposed to and be practicing the less traditional gender roles and balance.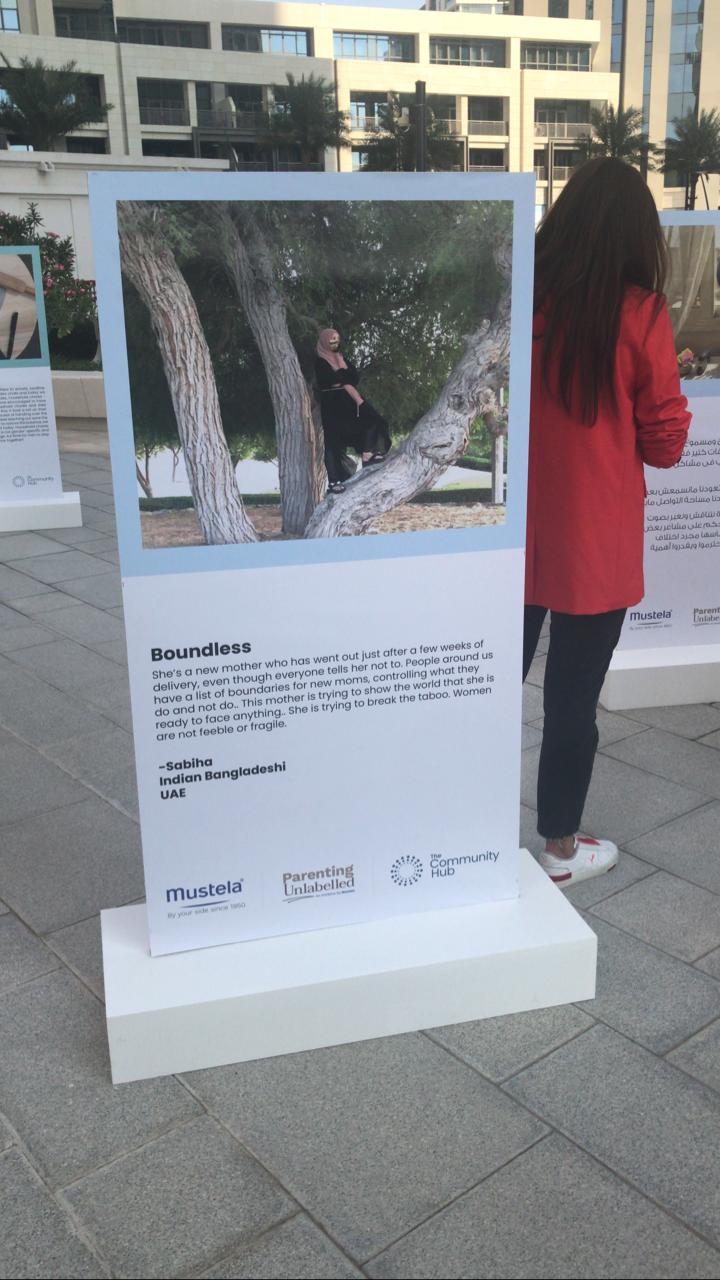 "Boundless"
"She is a new mother who has gone out just a few weeks after delivery, even though everyone has told her not to. People around us have a list of boundaries for new moms, controlling what they do and not do. This mother is trying to show the world that she is ready to face anything. She is trying to break the taboo. Women are not feeble or fragile" – Sabiha, UAE
"In the process of handing over the wheel of career to our daughters, we missed teaching our sons the importance of household chores. In order to restore the balance, we need to start with the fathers and sons of today. Household chores should be seen as a basic life skill, which is not gender-specific and sons should be involved from a young age. It's time for men to step up in the household. Let's strike a balance together!"
– Nitiya Sapru, UAE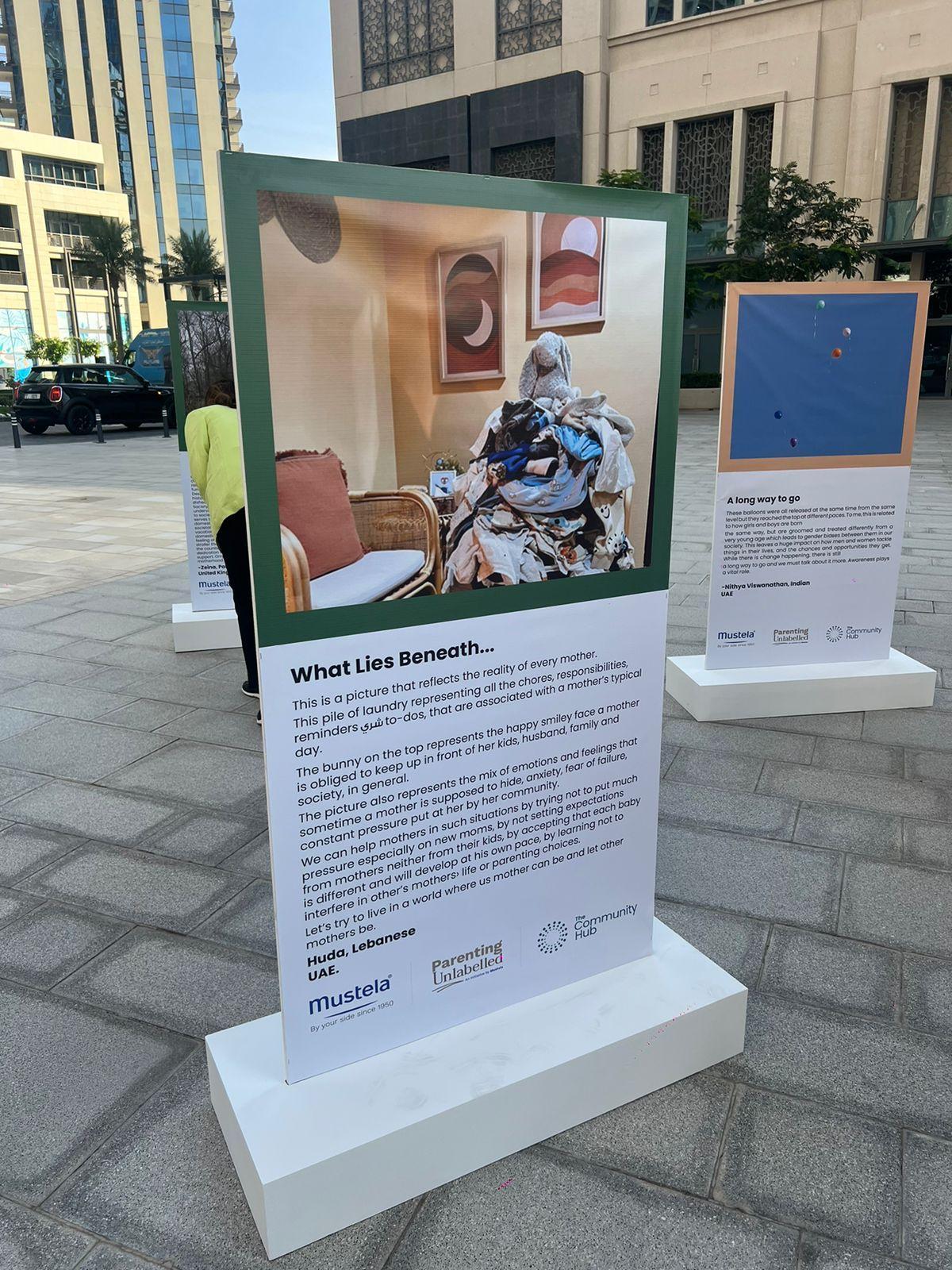 "What Lies Beneath"
"The picture also represents the mix of emotions and feelings that sometimes a mother is supposed to hide. Anxiety, a feeling of failure, constant pressure put at her by her community. We can help mothers in such situations by trying not to put too much pressure on them, especially new mums, by not setting expectations on them or their kids, and by accepting that each baby is different and will develop at their own pace, by learning not to interfere in other mothers lives or parenting choices"
The Photovoices exhibition was showcased at the Parenting Unlabelled event in Dubai where project participants, educational content creators and professionals from across the GCC came together to create awareness about gender roles in Parenting. The event included insightful panel discussions from the perspective of modern motherhood, fatherhood and an expert view of working together to combat gender bias, managing workloads, the balance of partnerships within the home and the challenges of raising families with additional needs. The true importance of the father's role within the family unit, the advantages of positive male role modelling upon the child's development, and the challenges faced by mothers looking for a more equalised mental and physical workload split in the home were discussed. The panels also included a discussion about the collective efforts of communities and organizations towards family wellbeing. It was tackled from educational, Media and how the private sector being part of the community as a whole can also impact and work on this social issue.
MEA Marketing Manager for Mustela, Eman ElGhandour said; "With such an impactful project, we wanted to bring everything together to discuss the mountain of insights and topics raised. We wanted to give a voice for the parents to express themselves and understand the joys, challenges and experiences of modern parenting and family lifestyle. We stand by parents. Mustela has been with parents for over 70 Years doing our best to provide families with organic and safe products. We are also devoted to empowering parents and to ensure their well being. The Parenting Unlabelled project has certainly helped everyone to open up and realise that they are not alone in their individual journeys , and to reassure them that brands like Mustela are willing to support with all our resources. We are looking forward to growing with the Parenting Unlabelled project by using our reach and platforms to spread positive awareness and truly make a change."