Looking forward to something special in a day motivates a person to be inspired and continue living life to the fullest. Passion will always be a reason for some people to get out of bed in the morning.
Caroline Ralston, the 37-year-old British Founder and Chief Executive Officer of Proposal Boutique, believes that the UAE encourages residents to dream big and that any goal is attainable in this country.
Caroline is from the United Kingdom and has a First Class Honours degree in Tourism Management. She arrived in Dubai as an Emirates Cabin Crew member 11 years ago and has since traveled the world as a First-Class crew member and then as a VIP crew member on private jets.
She received her dream marriage proposal in 2013 from now his husband, and her proposal story enthralled everyone she told about it.
"I have always been a true romantic, so I decided to set up the UAE's first marriage proposal planning company to ensure other women get a unique and romantic proposal story," Caroline said.
While in Dubai, Proposal Boutique works with men worldwide to give their partners their dream marriage proposal. They provide a fully personalized service, from selecting the ideal venue to arranging all extras such as fireworks, yachts, photographers, musicians, and much more.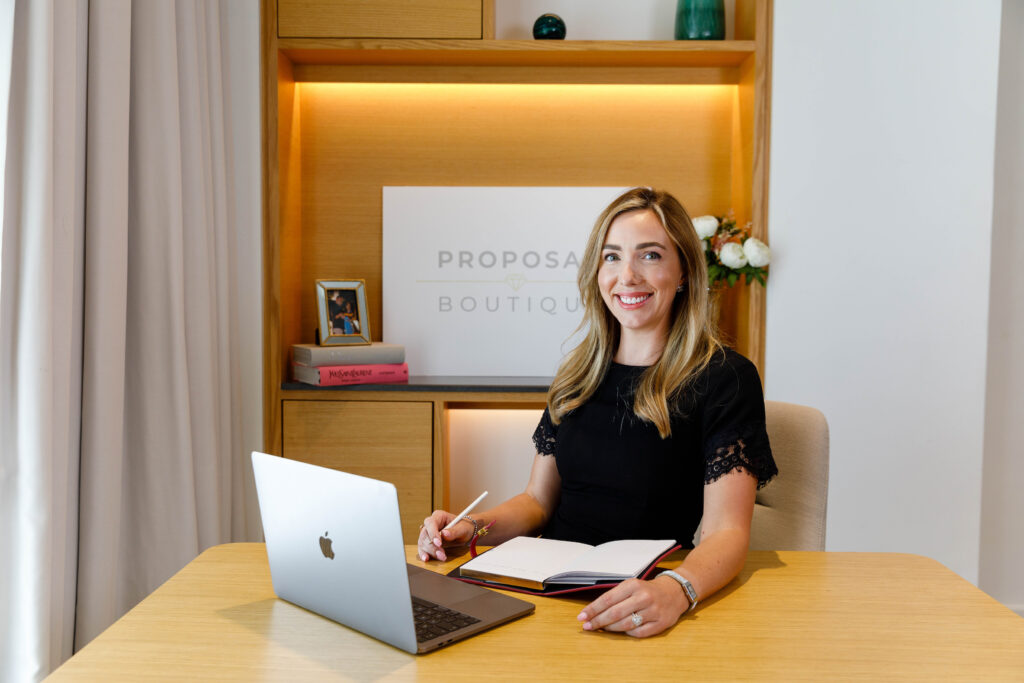 According to Caroline, the company can even assist them in selecting the perfect engagement ring and writing the proposal speech; it is the complete A-Z of proposal assistance.
As the CEO of her own company, she is a hands-on leader who manages all aspects of the committees she has for her business. Every day is different and hectic for her.
Love for job
Caroline founded a company to ensure that other women receive the perfect proposal, and she enjoys making people happy. She enjoys making each proposal story unique and memorable and working with her clients on the small details that their girlfriends will adore.
According to her, the feedback she receives is fantastic, and they have a 100% success rate with five-star ratings and glowing reviews, making it the most rewarding job in the world.
Although success is approaching, she still faces day-to-day challenges in her chosen industry. Few people have heard of proposal planners, according to her, but their business is very niche, and they want to stay true to that niche, so that is one of their daily struggles.
She added, "The most challenging part has been hiring employees to support the business growth. In the beginning, I was doing everything myself, from planning our client's proposal to doing the set-up on the day of the proposal and coordinating the whole event. Still, as the business has grown, I can no longer set up the proposal events, so I hired a team of proposal coordinators.
Caroline believes that the most challenging part was finding the right staff because you need a team that reflects you and your brand and will, take care of the clients and creates incredible romantic settings for them. Fortunately, she is a member of several business networking groups, so the support she received was excellent, allowing her to expand the team.
Dubai Life
Caroline has lived in the UAE for over a decade and received so much support and advice from other business owners. She believes that people want success for one another, which is incredible.
Upon being asked about her life after work and the activities she is involved in, she replied, "I am a workaholic, so life is hectic, but I love heading to the UAQ stray dogs center and walking the dogs when I have time as it's a great way to give something back to the community and meet other dog lovers."
"My ultimate dream is to have a happy family and to enjoy more downtime from work. I would love to increase our international proposal offerings and for the company to have its charity."