In a heartfelt tribute, a Sudanese couple has chosen to name their newborn twins after the Ruler of Dubai and his wife, as a token of gratitude for the support they received during their inability to return home due to the conflict in Sudan.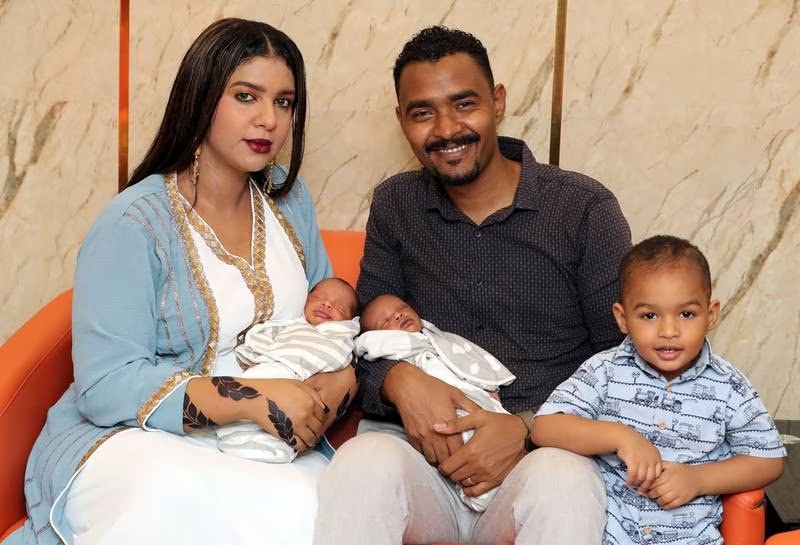 Aasim Omer and Duaa Mustafa welcomed their babies, Mohammed and Hind, on May 13, in honor of Sheikh Mohammed bin Rashid, the Vice President and Ruler of Dubai, and his wife.
Originally planning a two-week stay in Dubai for Ms. Mustafa's professional exam, their plans changed when she fell ill and was advised to postpone her return.
Unfortunately, the conflict erupted in Sudan during her recovery, leaving the family unable to leave Dubai. However, the Dubai authorities provided them with free accommodation. Sheikh Mohammed later ordered support for all Sudanese people in the UAE who were unable to return home, ensuring accommodation and healthcare assistance, as well as a safe return in the future.
The couple's decision to name their twins Mohammed and Hind serves as a token of appreciation for the extensive support they received, including the coverage of medical expenses.
Ms. Mustafa acknowledges the UAE as a beacon of hope and a promoter of goodwill. While longing for the day they can safely return to Sudan, she also expresses her sadness for her country and concern for her loved ones.