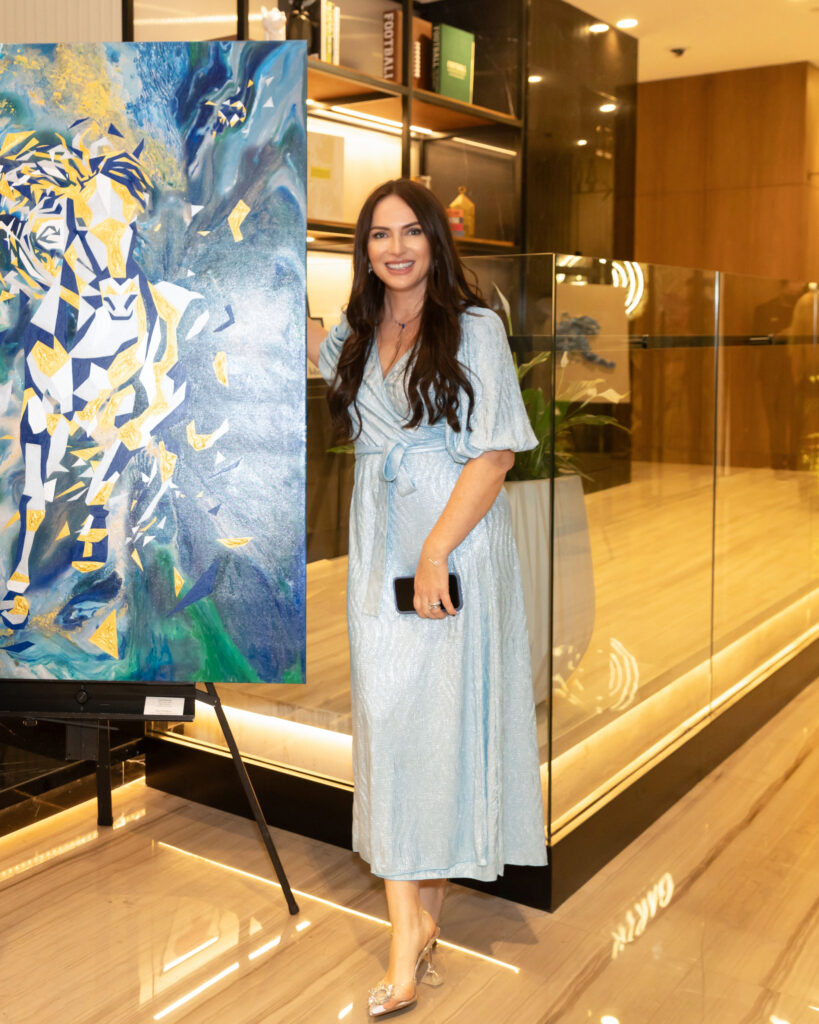 (Left to Right) Anastasia Kopijevski and Natalia Kopijevskaja
Dubai-based boutique art consultant, Skaya Art Agency is propelling the UAE's creative industry to a new experience with its bespoke, multi-disciplinary art specialist services alongside its roster of international artist exhibitions across the city.
Developed by a dynamic sister duo, Anastasia Kopijevski, and Natalia Kopijevskaja, Skaya's curatorial expertise facilitates all aspects leading to a gallery exhibit and beyond while specializing in contemporary fine art, pop, and street art.
Offering a wide spectrum of services thoughtfully tailored to individual artist and company requirements, key resources include curatorial advice for on-site specific commissions, and multi-stage exhibition steps. This covers planning and artist development, art acquisition, logistical coordination, collection management, and installation, leading to curated exhibits that engage with the community.
With the capacity to offer a full suite of services, Skaya developed a reputation for global artists to partner with as they engage with the Middle East art community. Such tie-ups led to a portfolio of creatives that the art consultancy cultivates for exhibitions across the city and routinely positions in the region alongside corporate work.
"We're excited to represent international artists in the UAE and the wider region as we feel there is so much potential here. Our exhibitions in Dubai have gathered a lot of interest from art collectors, enthusiasts, corporate clients, and the general public, a sign that art appreciation is present even in the aftermath of Covid-19 and economic unease. A cosmopolitan city like Dubai facilitates access to interact with different cultures and build multiple connections, an essential factor for running an art consultancy and expanding the audience of our artists," said Anastasia Kopijevski, Founder and Owner, of Skaya Art Agency.
Skaya Art recently organized and facilitated two exhibitions to showcase work from its unique artist lineup and offer interactive engagements for attendees.
Faceless by Anna Chekh:
A debut exhibition held at Oblong Contemporary Gallery this past October showcased the artist's mix of acrylic paint on canvas and sculptures in vibrant colourscapes aimed to brighten people's moods and evoke joy during the war in Ukraine. Hidden within her work is a signature element – a faceless man, signifying the viewer's desire to experience everything whilst remaining in the shadows.
Bringing an interactive, element, guests could create a digital piece of art using elements of Anna's work via a technology installation.  This resulted in their very own NFT art creation – a digitalized piece of artwork, aligning with popular blockchain technology.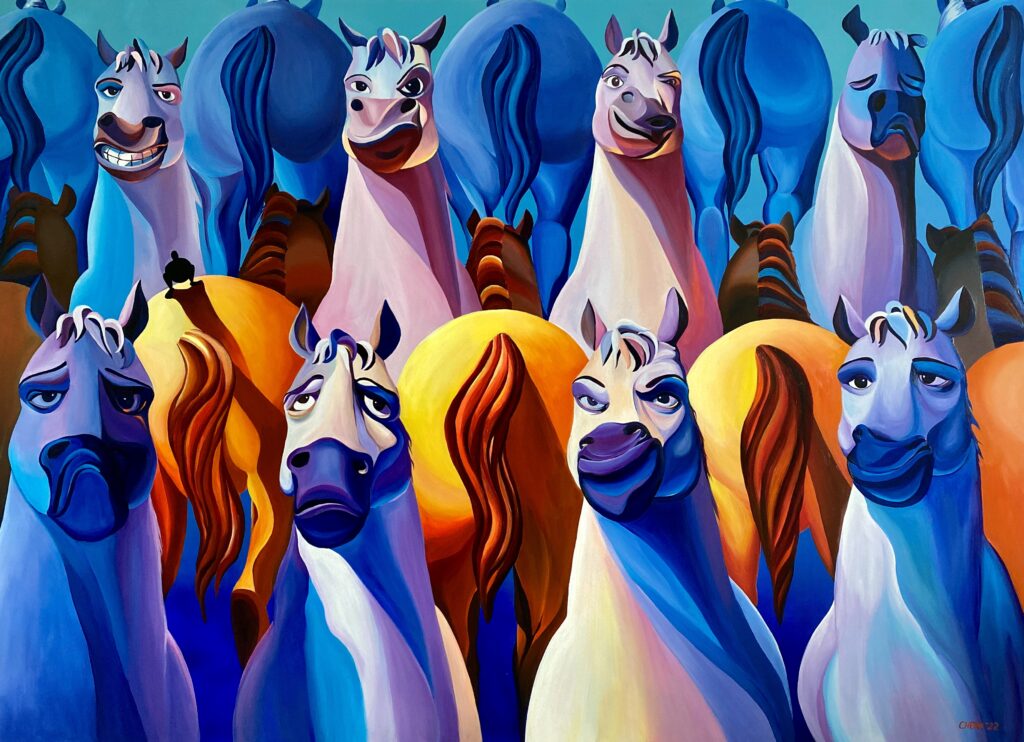 (Left to Right) 'Horse's Mood' and 'Save My Historical World' by Anna Chekh, prices on request
New York-inspired exhibition featuring Katya Leonovich and Denis Ouch
Held in collaboration with the newly opened BOCCARA Gallery in Gate Avenue, DIFC showcased artwork from two renowned artists – Katya Leonovich and Denis Ouch last November – demonstrating Skaya's global reach.
Katya's 'New York City Movement' collection is dedicated to New York, signifying the city's flow, speed, heritage, and sleepless nature while showcasing 'tunnels' between concrete building walls, open spaces full of light, and endless motion of cars and people.
Denis Ouch's 'Banana Gun' Collection communicated his views on the promotion of gun violence in mass media.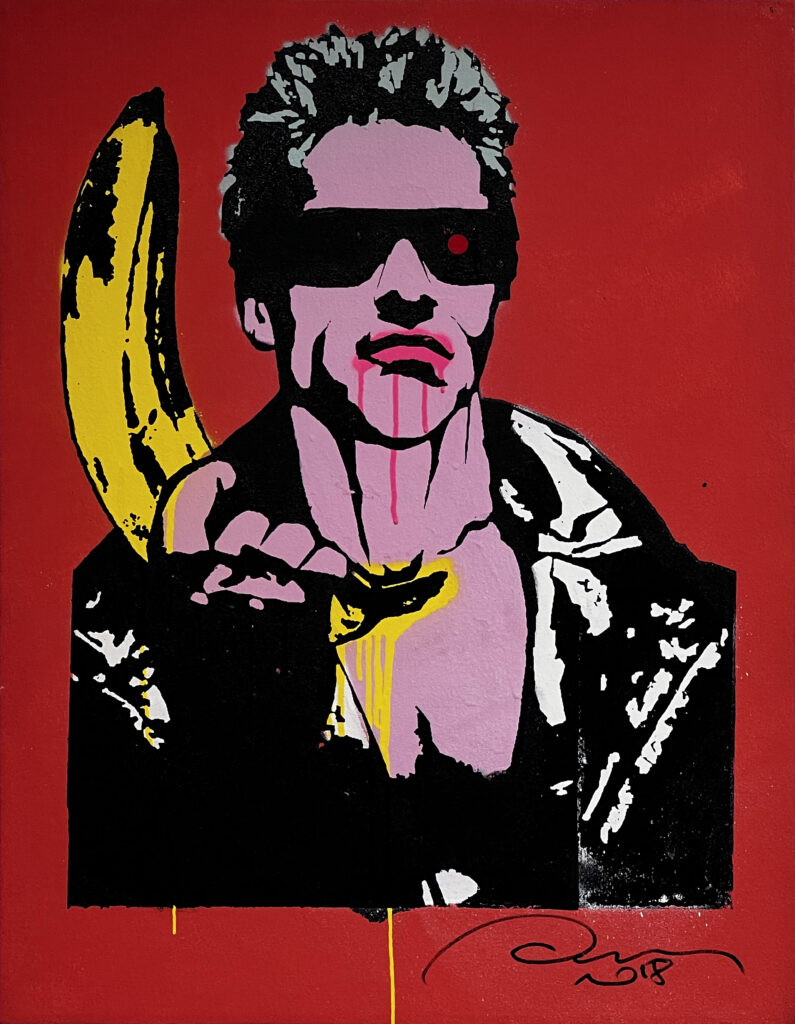 (Left to Right) 'Terminator' by Denis Ouch and 'New York City Traffic' by Katya Leonovich, prices on request
Commenting on their progress, Natalia Kopijevskaja, Partner at Skaya Art Agency said "The UAE has evolved and transformed into a regional hub for creativity and culture over the years, attracting global interest and gaining recognition as a creative center. We take pride in being able to showcase international talent in the UAE facilitating a connection with the general public, but also contributing towards larger goals of supporting the nation's innovative thinking and collaboration values."
With several exhibitions planned for 2023, Skaya is looking forward to showcasing a portfolio of international artists in the UAE and wider Middle East region for industry contacts and art aficionados alike.